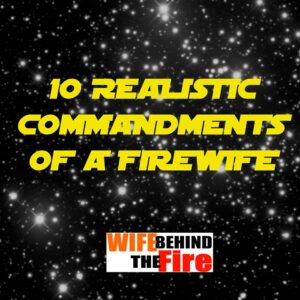 We know its not easy to be a firewife.   The way I see it, you can approach this relationship in two ways:  1.  live in fear and hero worship or 2. Roll with the punches.  Personally, I just roll with the punches.  There are some days that punching my firefighter would make me feel better, but on those days I just drink.
I don't do hero worship when it comes to my FF.  I cant.  He is a normal person that happens to have an extraordinary job.  Does being with a firefighter sometimes have its challenges?  Hell yes.  But putting him on a pedestal and letting him shirk all normal responsibilities is just silly.  Being a firefighter isn't a calling.  Its not a birthright handed down from on high (unlike my princess-ness… that's a birthright, dammit!).
So I came up with some realistic commandments.  Realize that this somewhat tongue in cheek… but lets be honest, if you take your roll as firewife too seriously, you will just drive yourself mad.
10 Realistic commandments of  FireWife
1. Thou shall only marry a firefighter if you are a touch crazy and like to drink.
2. Thou shall be prepared to kick his ass when he tries to take the fourth consecutive OT shift and he pouts worse than a 4 yr old when you say no.
3. Thou shall realize that while his job is hard and he saves lives, he also sits in the station watching tv and playing Xbox.
4. Thou shall realize that everything that can go wrong will go wrong on a shift day. That's why it's a requirement to drink.
5. Thou shall keep a sense of humor otherwise you drink too much and have to visit a nice lady named Betty Ford.
6. Thou shall keep the kids occupied and entertained when he is running his 4th consecutive OT.
7. Thou shall feed the kids coffee, sugar laden donuts and pop rocks then hand them off to firefighter when he is home on the 5th day
8. Thou shall lean on other wives on a FB group. Because those wives in your dept… Bitches
9. Thou shall remember that it's only a job and he wasn't born wearing bunker boots and squirting a hose. (Okay. Maybe the hose was squirting. But that's it)
10. Thou shall love him hard because loving a firefighter is hard. He is also expected to do his fair share and not get a free pass… He is only a hero once he's dead.