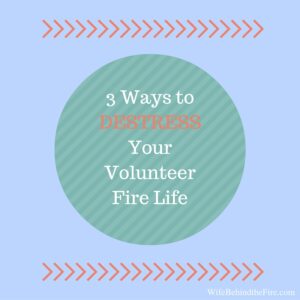 Life as a volunteer fire wife can get quite stressful. Volunteer firemen typically work a full time job outside of the home. When you pair this with him spending what would typically be family time fulfilling station obligations and running calls, it can strain your relationship and your own personal well being. A certain level of stress also comes from his job being a dangerous one.
Don't constantly monitor the scanner while he is on a call.
I find that monitoring the scanner while he is out causes unnecessary stress. I have had to learn to have confidence in his training. If you sit and listen to the scanner, you are only going to get bits and pieces of the story. You may hear someone transported from the scene, and your mind can take off in a million directions not knowing if it was your firefighter or a bystander.
Do something productive instead. I get the best of my deep cleaning done while he is out on a big call. Channeling the worry and stress into a task really helps me. Take your dog for a walk, bake cookies with your kids, or get lost in a good book.
Meet people from the station.
This goes back to trusting your fireman's training. If you know the people he is running with, you know they will have his back. His fire family becomes your fire family, and there is a lot of comfort in knowing they care about his well being just as much as you do.
Meeting spouses is also very helpful. If you are friends with other fire wives, you have a built in safety net. Meet them for dinner if your fire fighter is out on a long call, or coordinate an impromptu play date with your kids. No one understand the stress of the fire life like a fellow fire spouse.
Make time for you.
Aside from calls there are training nights, meeting nights and various other station activities that take up your fire fighter's time. If you have children, this can leave you as a single parent more often than not. Making sure you carve out a little bit of time to recharge yourself is very important to your sanity, and the health of your relationship.
Voice your needs . If you need an afternoon to get out without the kids to get a pedicure, meet a friend for lunch, or just do some shopping make it known. I find if I don't get some time to myself the resentment starts creeping in whether I want it to or not.
Fire wives can get just as burnt out from this lifestyle as fire fighters sometimes do. Aside from the stresses the lifestyle brings, there are many positive aspects. Keep the stress to a minimum so you are able to reap the rewards to their fullest. What are some of your favorite ways to keep the stress of volunteer fire life from becoming too much?