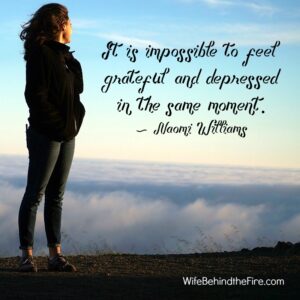 We can all agree, there are very few times we firewives aren't under stress. It just goes with the job we do keeping the house running and supporting them emotionally through their rough days and hours worked.
But, stress is a killer. It can lead to inflammation throughout your body, triggering the onset of a number of less than desirable health conditions. It also attacks your emotions and mind, which can lead to neurological disorders, emotional eating, detachment from friends and family, anxiety and depression.
So many issues can arise if we let the stress stay in our lives day after day, some small, others quite severe.
Stress happens to every one of us. That means you need to know how to deal with stress and recognize when it is building up. Consider the following 6 practices the next time you are feeling stressed and see the negative vibes moving away.
Workout
I know when stressed you generally don't have enough time to get everything done. Working out ends up being dropped or the farthest thing from your mind to schedule in. I get it. I do it as well.
But get a workout in. Your workout will clear the endorphins out of your system. Those pent up endorphins are a major reason why health conditions start. So get rid of them! Get on the elliptical, go for a run, drop and give me 20…just burn those angry endorphins away.
Meditate
Effective meditation has been proven for centuries to reduce stress and anxiety. There are plenty of free and paid meditation resources online to help you get started. Remember that you don't have to be in a particular physical environment or area to meditate. Your time investment can be minimal as well. Close your eyes, calm your mind, focus on your breathing and in just a few minutes you can feel the stress slipping away.
You can combine working out and meditation by doing some yoga. See, multitasking…typical firewife 😉
Change Your Environment
If it is possible to leave your stressful situation, do so. Take a walk. Get outside in the sun. Take off your shoes and walk through a grassy field. Read a few pages of a book or watch a funny cat video. Sometimes your environment is causing your stress, and even just 5 or 10 minutes away can help your situation.
Treat Your Body Right
Sometimes your stressful situation is your body's way of telling you that you are unhealthy. This means eating right, less fast food and processed food items, and more fresh fruits, vegetables, seeds, nuts and berries. You should be exercising 3-5 times a week for more optimal health. Make sure you're getting plenty of rest, and drinking lots of water.
Create a Stress-Free Zone at Home and Work
As mentioned above, your environment can sometimes dictate your mood. Create a nurturing place at home, and at work if possible. Keep it simple, with as few objects and possessions as possible. Add pictures and music that soothe you and make you happy. This is a place where you can mentally reset your emotions, minimizing the impact of stress.
I just recently started a new job and I'm working on creating a less stressful office at home. Organization is a big one. It's great to close the door at the end of my day and know I'm set up for tomorrow. But I've also added fun things to my office area. Silly posters or signs. Especially things that make me giggle and think of friends that always pull me out of my negative mood.
Look at Things Objectively
Your stress is not always as full-blown as you think it is. We tend to be guilty of over-exaggerating situations at times. It's what happens when we are in it fully and fighting our way out. I'm absolutely including myself in this.
Try to look at your circumstances as if you were a nonjudgmental outsider or that friend you know that gives you the best, calm advice. This allows you to identify the real cause of stress, and then you can act less emotionally.
Focus on Positive
In the group I have one major rule that trumps all others. If you post a negative, you must put up a new post with a positive. It's called balance and it works. When life has overwhelmed you, stop and write a list of all the positives going on in your life. Even if it's just the fact that there are no stains on your shirt at this minute…write it down.
We will all have more stress than the average citizen. It's just our life and we are going to help each other through it. If you would like to work on that life of more gratitude, I have you covered. I wrote the Firelife Gratitude Journal so you can work on that gratitude every day. It's easy to focus on everything that is going wrong, it takes more work to remember everything going right.