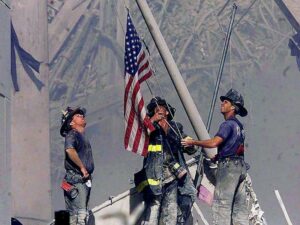 September 11, 2001 was, and I am stealing a quote from Franklin Roosevelt "A day that will live in infamy". Thirteen years later we take time to remember what happened, the sacrifice that was made, and the aftermath that is still afflicting so many people today. The fire service took a big hit that day, and as a result there are probably several of your husband's careers choices decided in the days following. Those twenty somethings that are just in the service don't remember that day the way the twenty year vets do. I'm not saying that to diminish the new guys, it's just a fact. Unless you were on duty or called back in to your station and witnessed what happened while in a room full of your brothers and sisters, you just can't understand.
Ladies, the reason I decided to pen my little note on this day is to offer up a reminder to you. You, wives of men that were there on duty that day and in the days following,  carry the memory deep in your souls as well. The images of the destroyed fire trucks and the voices on the radio transmissions we all heard, serve to remind us that we are ultimately fragile things in a world that can land square on top of us. We hide those feelings (like we hide everything) in a compartment in our minds and only secretly unlock it once a year in honor of the fallen. Remember your own fears and worries ladies. Embrace them with your firefighters and give him extra love and maybe some patience today. We will know why you're doing it, but will try to not acknowledge it, don't let us ignore it.
For the wives of the post 9/11 firefighter, you face a unique challenge because you have not faced the worry and fear to the level of some wives who watched their husbands go to work after that callback. I say this with all the respect in the world because I know you say goodbye to your husband every shift day with the little thought in the back of your minds "will I see him tomorrow?" This was different. Just as it is different for the firefighters. Post 9/11 guys only know the training videos, the Discovery Channel documentary, and the reams of literature that came out after. They may see this day as a hassle because they have to do the "dog and pony show" down at city hall again. They had to clean up the station and the engine a little bit extra because you just don't know who might show up.
Most of all they have to listen to all the "old guys" talk about that day again. Don't get me wrong, I know they respect the sacrifice that was made and some might even look forward to celebrating today, but my gut tells me that most may just treat it as any other day. Each year that passes is another year it fades into memory. The challenge to you is simple; remind your guy that today is important, remind him that it's not just another day, and that those celebrations and extra duties are how you honor those fallen.
To all of you, please believe me when I tell you that your behind the scenes support of us is immeasurable. You've all heard the line that behind every great man is an even greater woman. It's true! Without ya'll we would just be big dumb firemen. So thank you. Please continue to support each other here. In some ways today is harder on you that it is for us. We don't think of our mortality the way you do. I am glad there is a place for you to bond, protect, and support each other. Post 9/11 wives lend an extra ear to those wives that lived the fear and uncertainty of that day all those years ago.