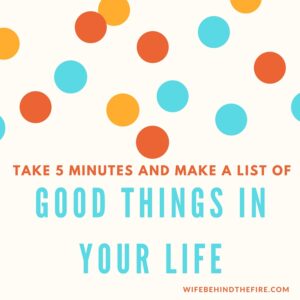 A week ago I posted how I felt overwhelmed with all the negative in the world. I came up with a quick list of ways I could combat that. One of the ways was to create a blog post with a list of all the great things going on in my life right now.
So here is my list:
Vegas in just a week
Celebrating our 22nd anniversary on the 16th
Classes and testing for promotion stuff landed perfectly with our schedules
Our youngest is graduating
Our oldest is stationed for wildland season at the station she wanted
Oldest made honor roll
I was hired on as an assistant track coach (last year I volunteered)
Our amazing track team is on course to end this season even MORE amazing
I'm sleeping so well!
Communication has been great
We're finishing up projects around the house. House goes on the market in June!
We're full of things we're talking about doing next year with no school schedule to work around
The boy has been healthy and we get to see him run track this year
All of us are getting along well when the oldest comes home. Hard to ask for more than that
I'm sure I could come up with more, BUT I'm sure you've read enough.
Last week when I was really getting down over all the negative, I did reach out to my support system. See, I talk to a lot of wives behind the scenes and at times, it gets to be overwhelming. Most people aren't reaching out when they are at high points in their lives. I LOVE being a shoulder to cry on or an ear to bounce things with. But it had taken a toll.
Just as I had created this post and then told my support system of wives I was at a breaking point, I got 2 messages. One from a firewife that found out her biopsy was benign and the other from a wife that had taken a giant leap and went to counseling with her ff. Getting those 2 messages was enough to perk me back up again. But I'm still going to work through the list I made last week. It's always good to balance.
Have you created a list lately of all the positives going on in your life? Write them below in a comment. Let's share the good stuff!