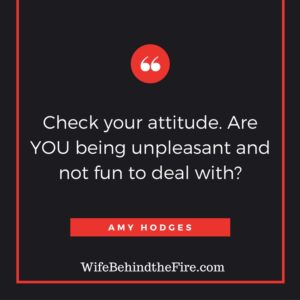 As a firewife, I've adapted to being alone quite often. It really is a skill, and if you're going to be married to a firefighter, then it's something you have no choice over.
I've made my own routine, I do my own thing, I keep up with life. And, really my husband does the same with work and his off time when I'm at work.
Also, in my marriage, I'm quite the introvert. That's not to say I dislike people and I'm not shy, but I need my alone time to keep sane. The 24/48 schedule works very well for us. Typically, I don't mind even 48-hour shifts, but I'm always ready for him to come home. I think that's key. If I'm not missing him, then something is wrong.
After the adjustment to being away from each other all the time, then there comes vacation or just time off at home. My husband has had to take a couple weeks off at the end of the year for having too much leave time (what a nice problem to have!).
This doesn't seem like a big deal at first because what's better than all the extra time with your spouse? It can be a very big, disastrous deal. Routines temporarily change which can throw a lot of people out of whack and you have to get used to your spouse being with you all of the time. Which can lead to arguments and fights over little things because you're both in each others way.
But, you cannot get too comfortable being together for too long because things go right back to not spending time together after leave time is over. And, that's the name of the game of the fire service: constant change. Another aspect of the firelife that you must accept and handle every day.
So, what's the secret to not wanting to pull your hair out after spending a few days with your spouse? We just had our week long vacation and I made a mental list from this trip as well as other successful trips and extended time together that seemed to work for us.
1. Be reasonable. Don't expect perfection when you get extended time together. It's precious time, but life still happens. Messes are made and mistakes still happen. And, consider it practice for retirement because then you will be together everyday!
2. Don't plan every minute together. On our most recent trip, I made it a point to get out and walk in the mornings. Also, if the opportunity was there for my husband to get some alone time,  I was accommodating.
3. Check your attitude. Are YOU being unpleasant and not fun to deal with? I think realizing that you are having to adjust helps the situation, but also keep in mind that things may go smoother if you keep a positive attitude. This is when marriage becomes work. Force a smile, take a breath, and remember it's temporary. The time together will end too soon, so the goal is to enjoy each other as much as possible.
How do you deal with them being home more than usual?