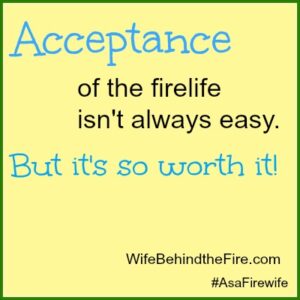 Oh boy, acceptance is a big one. One that changes constantly.
As life changes we have to either accept it or be miserable. There are some ways we can change and adapt things so we don't have to accept it as it was first thrown at us. But all in all, we will still have to accept many things life throws at us.
Acceptance of things we can't change is a big one. First as a vollie wife I had to accept that the pager would go off every time we grilled steaks.
It became a joke in our house. We went longer and longer without grilling steaks because it caused the damn pager to go off. Most any other dinner didn't cause it to happen lol
Then I had to accept the jump to him being gone at academy and not talking to him. It's in the middle of the mountains and there isn't cell service. It was a huge change for us, but it made it easier to accept him being gone for just 24 hours on shift 🙂
Acceptance is a choice. You can accept this firelife or fight it. Either way it's going to happen.