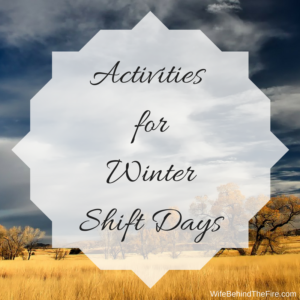 I'm not quite sure how we are already into November, but it's here! Most people are spending more time inside with the cooler weather approaching. Before we know it, we will be in the throws of winter and cabin fever can start creeping in quickly! I know that for many firewives, not being able to spend time outdoors in the nice weather really creates a challenge to get through shift days, especially with children. I would like to share three ways to avoid the cabin fever during the winter months. These are things that you can do by yourself to relax, or with your children or friends and family to distract yourself from long shift days!
Take up a new hobby!
I have always wanted to learn to crochet. A few years ago I was ready to learn. I had a few handmade gifts in mind for that holiday season, and I figured what better time to learn? One shift day I sat down at my computer and began searching the internet for tutorials. I found many that were written out in word form, but I am more of a visual learner. I was pleasantly surprised to find endless tutorial videos on YouTube. I had hit the holy grail. I would sit down mid afternoon with a project, and before I knew it bedtime had passed!
Ever since I have taken to Youtube for many other how to's. The possibilities are endless! If you've ever wanted to learn to crochet, knit, paint, or anything really, you are almost certain to find a how to video. Again, this is something you can do on your own, or have a few girlfriends over for a how to craft night. Mix in some snacks and wine and you're sure to pass the next shift day in no time!
Game night!
Who doesn't love a good round of board games or cards? One of my favorite memories with my kids when they were little was game nights while dad was working at the station. As the kids got older, we moved on from regular children's board games and we then incorporated things like Pictionary and card games. We usually made nachos or homemade pizza on these nights. It was always a food that we could eat while playing and continue to snack on the rest of the evening.
If you don't have children, this is another fun activity to do with fellow firewives, or other friends and family. You could have a potluck style dinner where everyone brings a dish to share, and rotate hosts for a change of scenery. The options are endless with this one, but you are sure to have tons of fun!
Baking day!
The holidays are fast approaching! Many families dedicate whole days to baking cookies and other holiday goodies. If you've ever participated in a baking day before, you know how fast the hours past. Baking days are perfect for those shift days while your firefighter is at the station! Invite your friends and family over and request that each bring a recipe and the supplies for one cookie or treat. At the end of the day you will have made memories and shared many laughs – split the recipes up among each of you and you will have a whole collection of treats to take home and snack on!
This is also an activity that would be really fun to do at home with your children. Again, everyone can pick a recipe they want to make – a new recipe or a trusty favorite. Either way, kids love being in the kitchen. I know some of my favorite memories as a kid are from helping out baking with my family!
Shift days can be harder to get through during the winter months. I hope some of these ideas appeal to you, and you can incorporate them into your schedules while your firefighter is on shift. What other activities do you like to do to pass the time on winter shift days? Share them here in the comments or on my Facebook page. I always love hearing what you are up to!