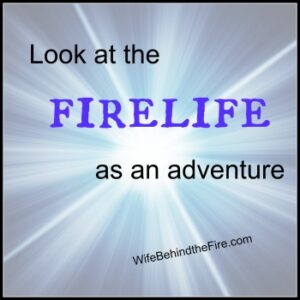 Now what day in a firewife's life isn't an adventure?
Embrace it.
If you were with your firefighter before he joined, then you are probably in the same boat I am. This adventure kicks butt over the "normal" life 😉
It can be a lot. Constantly changing your schedule to fit around theirs. Not knowing for sure what your schedule may be.
But think what things the firelife also brought to your life. In our case, him getting on paid has taken us on all sorts of new adventures.
He now has vacation. We've taken vacations with our firefamily. We have a yearly camping trip with our firefamily.
His days off we can go exploring new restaurants and cool breweries during the week when they aren't busy.  We can have lunch dates while the kids are in school.
While the schedule took some adjusting and at times still gets crazy. I've worked on embracing it and finding new things to do that we couldn't before.
As we get closer to being empty nesters I'll look forward to what new adventures that will bring.
What adventures have you had?