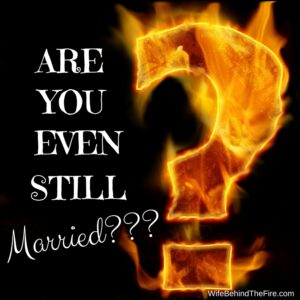 I cannot even tell you how many times I have been asked this question by an inquisitive friend or family member when I show up to an event or party alone with my children. Unless someone has been a part of the fire lifestyle, it is hard for them to understand why you attend functions without your other half the majority of the time. It is not your ideal situation, but one you agreed to when you entered a relationship with a firefighter – whether he was one when you met him or it was a choice you made for your family together.
I have been questioned more times than I can even remember, and the reasons that people come up with for his absence are sometimes downright humorous. Yes, I really have been asked if we are still married. People wonder if my husband even likes them because it has been months or years since he's been able to attend a family member's birthday barbeque. It definitely wears you down to have to continually explain why you RSVP for just yourself. Of course you do not like to attend functions alone – and of course, he wishes he could be here too.
"Couldn't he just take the day off?"
One thing I have learned is no matter how many times I explain it, most people do not understand or just overlook the fact that he can not ask for time off whenever he wants it. Obviously, our firefighters follow a strict schedule of 24 on and 48 off, or whatever your department's schedule may be. They do not grasp the fact that vacation days are usually scheduled once a year, and that if you need a day off it has to be swapped with another firefighter who is willing to trade shifts. I find that many people take for granted weekends. Fire departments run 24 hours a day, 365 days a year – they do not stop for the weekend.
This topic comes up a lot in the firewife community. Each firewife takes her own approach to the topic. I've had firewives tell me they confirm whatever crazy reasoning family members come up with for their firefighter's absence. Some even avoid attending family events because they get fed up with fighting off the questions. You should not have to feel like you owe anyone an explanation, and sometimes their questioning is borderline rude. Do whatever works for you, but do not feel like you should avoid these events just so you do not have to deal with their prying ways.
What I have found works best for me over the years of being a firewife is keeping the exchange short and sweet when questioned about why my firefighter is not with me. I am often tempted to say something snarky, but I have to remember again they just are not familiar with our family schedule. I simply remind them he is on shift on that given day but would have loved to make it. Usually, that is enough to satisfy their inquiring minds and it is then easy to change the subject or move on to another group to chat with.
Most times it only takes once or twice to remind them of our less than conventional schedule for the questioning to end. The longer we have been married, the more people become accustomed to our lifestyle. These days I find the only people that question his presence are either new friends or family members we rarely ever see. Of course, there is always that nosey nelly who may ask you every time looking for some juicy dirt. Those are the times I choose the snarky comment just for fun!
What is the craziest thing someone has said to you when you've shown up to an event alone?