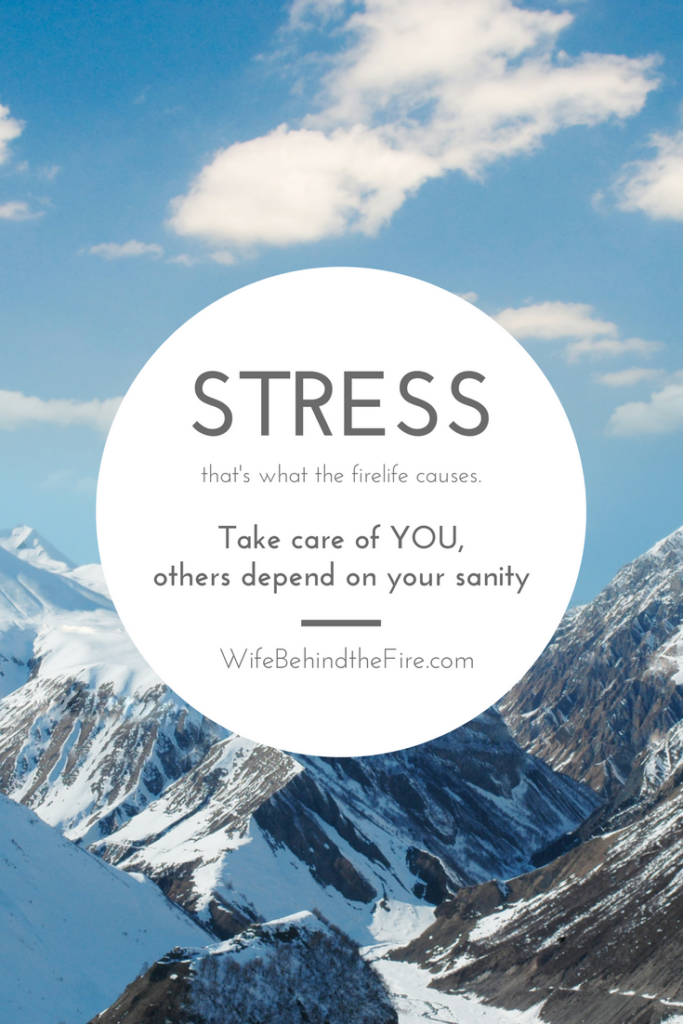 Mom's and firewives, there is one thing that is an issue for most women, we don't put ourselves  and our health as a high enough priority.
As I read comments and questions from other firewives, I hear a lot about how "his job" and "I know his job is important" and more along those lines. You get my meaning. A lot of women think that because of their job, we and the family need to take a backseat.
NO
I repeat, NO
Just so you understand…NO, we do not take a backseat to a job.
Everything I read from women is the same thing I felt before he was on any fire dept. It's married life, not just the firelife. The difference is, for some reason it's in many wives heads that it's ok if our firefighter's aren't playing a major part in our family life.
But, that's off topic. This post is about you. Being in the firelife does throw unique wrenches in the average schedule. If you are taking care of yourself then you will be better able to roll with the punches.
We all know that in the event of an airplane crash, you are to put your oxygen mask on first, then help others. If you aren't getting oxygen, you aren't going to help anyone.
Everyday life is the same. If you run yourself down to nothing, you can't take care of others. If you are a Mom, then you are also teaching your children to do this as adults. They pick up more from watching than they ever will from what you tell them. Here's some reasons ways to stop the cycle.
Top Reasons to take care of yourself
First and foremost, you'll be happier. Not much else is going matter if you are miserable and making those around you miserable as well. Happy wife, happy life? Yes, it's very true. I've seen it in my own house. My mood and attitude sets the tone for the house. I can jack people up or bring them down fast as lightning. It's so much better for all of us to be having fun.
When you are taking care of yourself, you are better able to take care of your family. You have the energy to get everything done and most days you might have a smile on your face while doing it. You need all that extra energy for taking care of everything on your own so often.
If you are in a different state of mind, you are ready for what gets thrown at you. You know, all that stuff that only happens on shift day. We all know the firelife means getting ready for constant change. You'll be less likely to freak out when things change in a moments notice.
Ways to Take Care of You
Stop and breath. Take a second and just be. When wrapped up in everything going on we get smothered. Literally stop this minute, take a deep breath, shoulders raised high and then relaxed back and down. Not good enough? Do it 2 or 3 times.
Remember your hobbies. This last Christmas I got crafty. Whenever I get crafty it makes me want to be even more crafty. I forget how much I enjoy making stuff until I make time to do it again. It makes me stop and have some fun instead of focusing on everything I'm behind on.
Get off the computer and read. This one is near impossible for me, even though I love a good book. I get so wrapped up in the computer that I have to really force myself away. It's worth it. Nothing but fun when I read, versus some aggravation when I'm online. It's especially a good idea if you have sleep issues. Get off electronics an hour or so before bed. Read and get more sleep.
Exercise and eat better. On the run non-stop, this one always takes a backseat. Yet when we are stressed, it's the most important thing we can do. Get out for a walk. If you have a gym membership, go. Walk in the door and tell yourself that you will do 20 minutes on a cardio machine and get on with your busy schedule. Eating healthy is hard if you emotionally eat. But get your trigger foods out of the house and keep healthy munchies around.
If you are ready to put yourself first and make sure you are at the top of your game as a firewife, stay tuned. I have articles, ebooks, challenges and ecourses around the site. We're going to remember to take care of ourselves and make sure we are ready for everything the firelife throws at us.
Enjoy the chaos!

PS – I want us to always focus on ourselves and how we can be stronger in this FireLife. How we can be stronger and not lose ourselves specifically. Want to make sure you know about new products and memberships? Sign up for the newsletter.
PPS – Need some assistance in finding yourself and where you stand in the FireLife? See if FireWife Life Coaching is the support you are looking for.