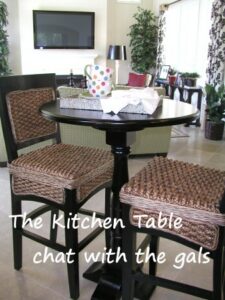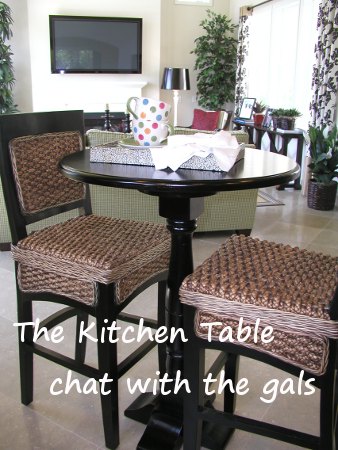 Here we are another week at The Kitchen Table already! This week I was running behind since I started working weekends at the pumpkin farm. No worries, the ladies below jumped in quick to answer so I wouldn't have to skip a week!
It's very cool how much everyone wants to contribute. I don't think I'll ever get over how cool it is. I know the ladies love to hear from everyone and I'm hoping it will help to pull more people into our group that haven't found us yet.
As always, pull up a chair to The Kitchen Table. I welcome all of your comments. Feel free to answer the question here or on your own blog if you have one. BUT, if you answer on your blog, make sure you come back here and give us the link so we can go read it.
This week's question is:
Do you attend department events?
_____________________________________________________________________________________
Thanks Aimee for jumping in right away and getting your reply to me so fast!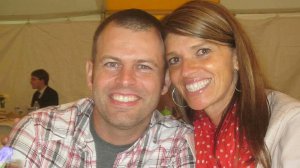 Yes, we attend many department events ( Promotion/Retirement ceremonies,  weddings, Christmas Burgers, family gatherings, etc).  It's great to see the Hubs in a relaxed environment with his brothers, the kids enjoy getting a little crazy and I enjoy spending time with the other wives!  I feel pretty passionate towards events like these. ….I feel it helps all of us strengthen and support our Fire Fam friendships.  Here's a recent pic from a FF wedding we attended a few weekends ago.
_____________________________________________________________________________________
Carol B. thanks for playing!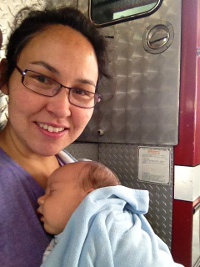 Yes I attend department events. Tonight I'm going to the open house that they hold annually. I also go to the Christmas party every year.
Somehow we always seem to forget to catch up with everyone unless there's a department event being held. It's a nice way to see all the other wives and their kids. Also, usually the department is footing the bill for some of the food or entertainment. Gotta take advantage of that!
_____________________________________________________________________________________
And Laura H. quickly came to my aid. She has extra insight since they are in both paid and volunteer dept's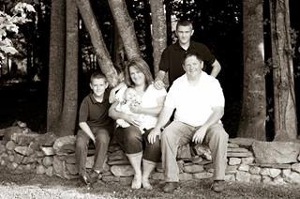 Husband is a career firefighter and a volunteer firefighter as well.
His career department is union and as a union they have had a annual event in previous years. For the past 3-4 years no events have been held because of some inappropriate behavior due to alcohol consumption and vandalism to the facility the event was held at previously. Just recently they had one again, by reports it went smoothly, we did not attend as FF was on duty. If FF was not on duty, we probably would have attended. Several FF in the department have had private parties through out the year that the majority of the department was invited to. We have not attended those. I think its been a variety of things that have kept us home, either he was on duty, or we did not have a babysitter for our 18 month old.
On the volunteer side the department has had several events that they put together that we try to attend if we are open on that date. We try to attend the annual Christmas/Awards banquet each year.
The volunteer side is more family geared when it comes to events as opposed to the career department that has one family event that the union organizes, as in our case, just recently started back up.
_____________________________________________________________________________________
Thank you Aimee, Laura, and Carol for making this so much easier for me.
I'll address a trend I saw up there in their replies. One thing that stuck out was having the little one's kept them from attending more events. That makes since and may be yet another reason why I didn't know much of anyone when we were in the volunteer dept. That's something I didn't even think about. I mean really, was there time to put into anything else except the exhaustion I was trying to overcome.
I went to everything that the dept planned back then. It wasn't a tight group even though it should have been. There were quite a few kids our kids age so we had trick-or-treating at the station and then hit the big neighborhood by it. Also had a big Christmas party with Santa and crafts. Then we had our yearly awards banquet which was fun some years.
Now as paid? If I look back over the last two years, I don't think we've gone to much of anything for the department. We haven't had a yearly awards banquet in years because of budget cuts. This year we had a BBQ at the Farm that was put on by the union and we totally went to that. Helped with that since our shift had a lot to do with it.
When we first got on I took the kids to the annual open house. Maybe for the first two years? If I think of it, it might not have even been when he was hired. It might have been during the merging transition. Daughter went and helped last year since hubby was on shift for it.
We used to go to the annual awards banquet. I think I only missed one year and that was because he worked and the wives didn't seem to be going. At that time I didn't know wives from other shifts and still didn't actually know enough of the firefighters to be left there when they got a call.
Now? I'd be all over going to a banquet/awards event if it was held on shift. I know plenty of other wives and the firefighters so I wouldn't feel alone. Considering the station he's at, I know he'd get a call during any event. lol Because of the budget cuts we haven't had one in a few years.
But we don't have department events or if we do, I just don't get word of them so they aren't sticking in my head. Our open house is the only thing we have left that we do I think. It's generally so busy there that I just don't feel the need to be there. The kids are way past the age of caring to go.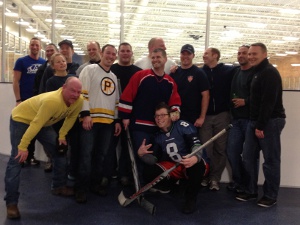 However, we attend a lot of things with our fire family and we make our own events. We have annual things we do with friends (like a camping trip) and if there are other shift things that have happened we do that also. We had our first B shift broom hockey game this year and we all know we want to do that again. It was hilarious and an awesome way for the guys to unwind.
So do you go to department events? Or events that are planned with fire family?
Links used at times are to products I will make a commission from. All the pennies add up to help with hosting and site maintenance.