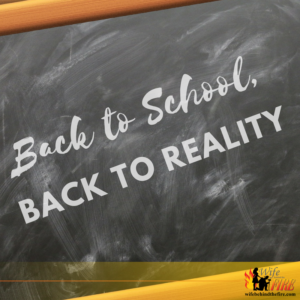 For most families, mid-August marks the end of summer vacation for school aged kids. School supplies have been bought and labeled. The first day of school outfits have been bought and eagerly await the first day of school on a hanger in the closest. With all the anticipation of a new year also comes the dread of the end of long summer days and nights spent outside with no care of bedtimes. Getting back into the school routine can be tough for not only the kids, but parents too.
Our school year starts typically the third week of August. I absolutely hate cutting my children's summer break short, so I try to give them as much freedom as I can until the very last moment. As much as I'd love to let them run wild and free up until the last night before school starts, I know they need to have a smooth adjustment back into school life. It also helps keep my stress at bay when I know we are all on the same page and in the rhythm of school life.
Bedtime Basics
One of the first things that happen in our house to prepare for the back to school schedule is to get back on our bedtime routine. During the summer months, we are always outside late into the evening visiting with our neighbors while the kids play. There are many nights that we aren't coming in to start bedtime until at least 10 pm. On a regular school night, my kids are in bed and have their lights out by 8:30 pm. We start adjusting their bedtimes back two weeks before school starts. The first week it's an hour earlier than their summer bedtime, and the second week they are tucked in and ready for sleep at their normal school bedtime. The second week I also wake them up at their normal school wake up time – giving their bodies an adjustment period before school starts is crucial in a successful back to school transition for us.
Ready, Set, Review
My kids read all summer long, but I'm not a stickler for them to do school type work every day. I believe they work their tails off all year maintaining good grades, it's important to my firefighter and I that they have their summer to relax and just be kids. A few weeks before my kids go back to school, we do find it beneficial to do some review work with them to get their minds back in school mode. We mostly concentrate on 30 minutes of reading either mid day after lunch or right before bed – it's their choice. We also review math facts and lessons that they learned the previous year, or ones that they struggled to grasp. Bringing that knowledge back to the forefront really seems to help them adjust back into homework and gives them the confidence to start off on the right foot.
What does back to school look like for your family? Do you let your kids live it up until the day school starts or do you have a plan to get back into the swing of school days? What tips do you have for other families who may be struggling with getting their kids ready for back to school, or first-time elementary parents?