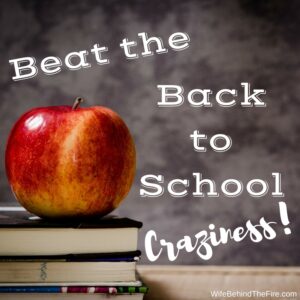 It's that time of year – school lunch menus hanging on the front of the refrigerator, backpacks litter the living room floor, a pile of emergency contact forms and classroom rules for parents to fill out and sign. Back to school time is upon us, and no matter how enthusiastically you counted down the days until Junior's first day of school the transition can be hectic for not only the kids but parents too. I have learned a few tricks through the years to help smooth over the transition from lazy summer days to back to school schedules. Hopefully, you can incorporate a few with your family to help you settle into the school year routine!
Set up a homework station and accomplish homework as soon as possible.
It has always been my philosophy that homework should be done as soon as possible, but obviously, that's not going to work for every family and that is okay! In our house, there has always been a desk set aside in a quiet space with lots of supplies readily available. My kids always knew that they were to come in the door and hit the bathroom and grab a snack, then find a spot at the desk and get to work. Children seem to get their homework done more efficiently when they are still fresh from school, and it also gives us as parents time to review their work and help them with anything they may be struggling with. Once you have established this routine it will become second nature to them and you won't find yourself panicking at bedtime because Eleanor forgot to do her math worksheet.
Parent mailboxes will become your best friend!
I can not tell you how many times I have been handed a permission slip or notice for an important parent meeting that I have totally misplaced because it was handed to me while I was cooking dinner, switching laundry or cleaning up a mess. I would always sit them down somewhere and either forget to come back to it, or misplace it all together – it's not my kid's fault, teachers always stress for children to not forget to get these important documents to their parents in a timely manner. One day when I overheard my kids talking about their mailboxes at school, it dawned on me – that would work perfectly at home! I got a cute and cheap basket and set it on our kitchen counter and I told the kids that all important forms from school and any graded schoolwork they may bring home needed to get put directly in the basket and I would get to them when I could. Worked like a charm! As soon as they opened their backpacks to unpack their homework all papers would be placed in my basket, and when I had a free minute that evening I went through them. No more worrying about where those important papers were placed or if they got turned in on time!
Bedtime routines are key!
No matter how old are kids were, we have always made sure to have a period of winding down before bedtime. This time would usually include bath time, a low-key show on the television while we snuggle on the couch or curling up in the kids' beds and reading stories together. Whatever the routine may be we always made sure it started and ended at the same time every night – there should always be a definitive bedtime that allows your child to get enough sleep to be healthy and productive at school. We usually start our bedtime routine about an hour before we tuck them into bed. Again, when your children become accustomed to the routine and your expectations it significantly cuts down on the whining and arguing that can ensue. As your children get older, it teaches them time management skills and they can accomplish a lot of these tasks on their own which frees up time for you.
Hopefully one or all of these tips will help the back to school transition a little easier for you and your children. Simple things like organization and routine can go a long way with simplifying and streamlining life with school aged children. Everyone is far less stressed and knows what to expect of each other. Here's to another great school year! Good luck, summer will be here again before we know it!