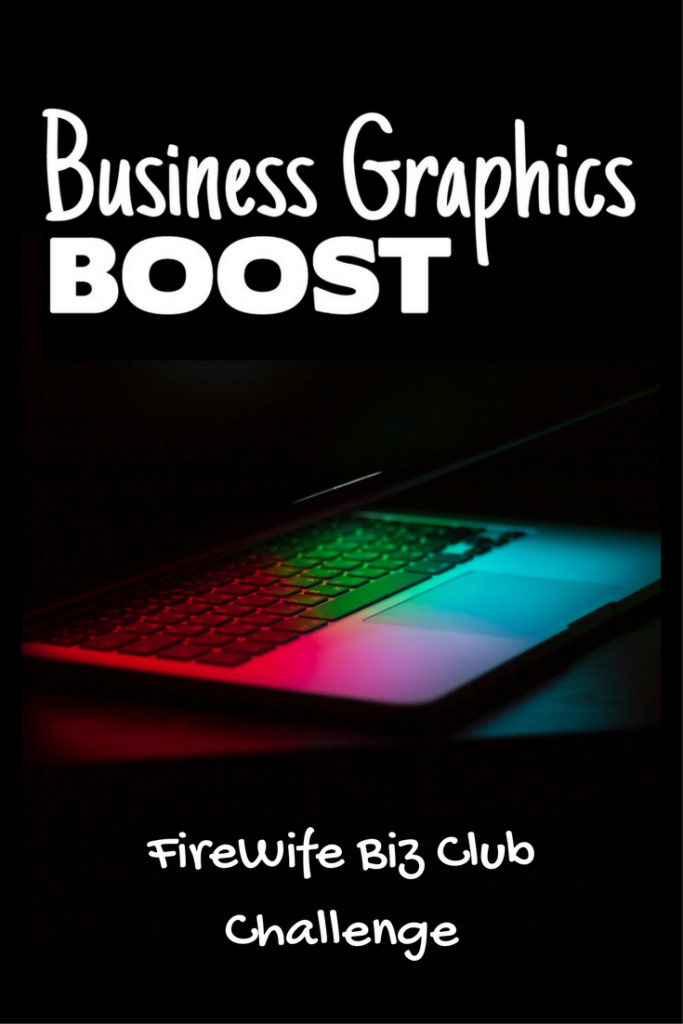 Just like parenting, coaching is all about adapting.
This months topic in FireWife Biz Club is "Adding Subscribers to Your List". But, due to tech and a learning curve, let's just say it is a little more work than we can take on in only 4 weeks. Well, hell lol
I doubled the resources available for the September and we will just keep working on it as long as necessary. That is the beauty of a private group for coaching. If a business topic is thrown out there, we can work on it as long as it takes.
All of us crave a little more instant gratification.  So Monday we are starting the 10 day Business Graphics Boost challenge.
Each day there will be some quick action steps to take to get your graphics better organized and give YOU a boost to making better graphics.
That means that members of the FireWife Biz Club are getting 2 topics this month. Double the value for only $7 this month. And yes, I said this month. The price for joining the club will be increasing in October. But if you jump in on this challenge and join now you will be grandfathered in at only $7 a month no matter how much the price increases.
What exactly is the Business Graphics Boost Challenge?
When you think of creating graphics for your business it's not all about stock photos. You want to put out visual content that represents YOU, that let's people know what you and your business is all about.
Yes… that includes selfies! Shock. Horror. Eeks! And that also means using real profile pics instead of scenery, pets or grandkids.
​Use stock photos but they are a  backup to real photos showing REAL things.
Pick great fonts that convey a message.
Choose colors to create a FEELING.
It's all about moving your market, moving your people, moving your CONTACTS into taking ACTION. And that's what this next challenge is about.
It's not about learning a new graphics software.
It's not about getting a ten hour course on color matching.
It's not about becoming a graphics designer.
It's about you, a business owner like me, using what you've got (yes even selfies) to create a business graphics BOOST of attention, interest, leads and NEW SALES for your business.
You in? Sign up for the FireWife Biz Club now to get access or keep reading for more juicy details…
INTRODUCING: The Business Graphics BOOST Challenge!
When you login, you'll get immediate access to your Challenge Fast-Action Plan. Then once the challenge starts  you'll receive daily emails with one of the challenge action steps included each day.
Curious what we'll cover in this challenge? Here are the exact activities you'll be doing over the 10-days:
Day 1: Inventory Your Graphics (there's gold in there)
Day 2: Gather 20 Images to Represent Your Biz
Day 3: Make a Graphic for a Product or Service
Day 4: Find ONE Picture That Makes You FEEL Your Brand
Day 5: Update a Popular Content Piece With Graphics
Day 6: Document Your Entire Day in Images
Day 7: Create a CALL-to-Action Graphic
Day 8: Take a Few Good Photos of YOU (selfies, pro, whatever)
Day 9: Update Your Profile Pics, About, etc.
Day 10: Plan Out a Week of Business Graphics
HERE'S WHAT'S INCLUDED IN THIS CHALLENGE
Challenge Prep Sheet
Your "get ready" sheet to tell you what to sign up for, what to have on hand and how to prepare for the challenge so your fresh and ready to go when it starts on Monday!
Fast-Action Plan
Your action plan includes everything to do during the 10-Day Challenge and advice on how to do it quickly.
10 Video Prompts & Transcripts
Because I wanted this to go out quick and I was writing finishing it up, I had an assistant create videos. They are to the point talking-head videos to guide you through the 10 fast-action tasks of each day of the challenge. This is like having someone by your side during the challenge to give you quick tips, motivate and encourage you to get 'er done!
But that's not the end of it. You will be a member of the FireWife Biz Club which means you get coaching in the private facebook group. Questions come up and I'm just a quick post away from answering them.
If you're still unsure about this challenge and if it's REALLY going to produce results worth spending your precious and limited time on, consider this:
Graphics Matter– You have teeny tiny SECONDS to impress upon a new potential customer that you have something valuable to offer them. The images you present now matter more than EVER before. People have just too many options and they are VERY quick to judge. You want them to judge YES.
This is a FAST-ACTIONChallenge – Meaning I'm not wasting your time here. I'm not taking up your time with things you may or may not need. I'm telling you something to do and you go do it. You're smart. You'll find a way and it will be a fast and easy way but also a smart and awesome way if I know you ;).
You're Building Business Graphics Habits– The visual portion of online content doesn't come natural to most of us. Even if you LOVE graphics like I do, the internet was first and foremost a written medium and the tools and techniques for creating and using graphics has changed rapidly over the years. In this challenge you're building habits you can use again and again to get your content visually attractive, fast.
Ready to Get a Business Graphics BOOST?
I'm so excited to offer this to you and can't wait to see you run with it!
I'll see you in the club!