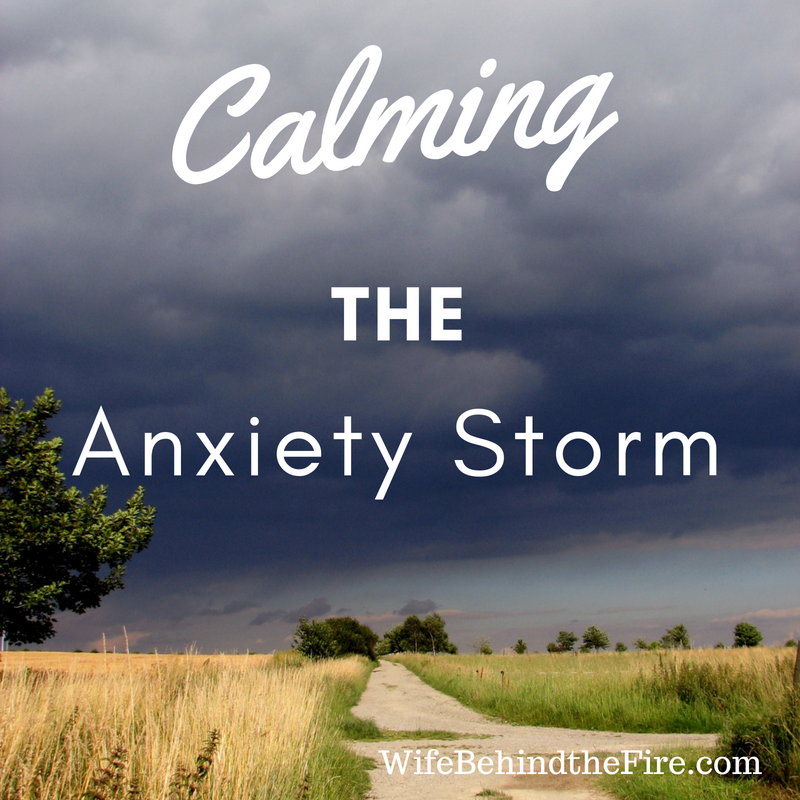 Anxiety, anxiety, anxiety. Something that has been a part of me as long as I can remember. Feeling antsy, pacing, racing thoughts, inability to focus, interrupted sleep if any sleep at all, and *shutters* panic attacks. For those of you who deal with it, you know exactly what I mean and how much of a nuisance it can be. Anxiety has affected every aspect of my life. Panic attacks have become a normal part of me, and unfortunately occur more than I would care to admit.
Luckily for me, I have a great support system that helps me through these panic attacks. When I was younger it was my parents and siblings, and now it is my wonderful firefighter. He has been wonderful at making sure I am safe during a panic attack and don't land myself a one-way ticket to the emergency room. However, as we all know, being a firefighter wife means hubby is not always there. They made the commitment to serve the public, and sometimes duty calls when you need them, and there is nothing we can do. My husband is a volunteer firefighter, so when he will be gone and for how long is not always known. Calls can come in at any time, and unfortunately my anxiety won't wait until he is home to wreak havoc on my mind.
For a long time, I let the anxiety get me. I would have terrible nights and days when my husband was on a call or on duty. Until one day when I decided enough is enough, I need to get a handle on this bad boy! So, what the heck can you do when this happens? Thankfully, I've learned some awesome skills to help me through my anxiety and I want to share them with you!
Anxiety Coping Skills
I recently went through dialectal behavior therapy, most commonly known as DBT, and it has been extremely helpful in managing my anxiety. DBT is a model of therapy that is comprised of different modules. Each module teaches different skills to help avoid a crisis mode and help to calm you down when you are in one. The module I use most is called Mindfulness. According to the dictionary, mindfulness is the quality or state of being conscious or aware of something. I like to refer to it as being in the moment, and the activities I do help me do just that. Trying to stay in the moment helps me to focus on what I am doing to help prevent my anxiety from getting too high and completely consuming my thoughts.
These activities can range from meditation and breathing exercises to something as simple as coloring or washing the dishes. My personal favorites include coloring, word finds, breathing exercises (there's awesome apps for that!), cooking or putting on a good show and binge watching! Being mindful is different for every person. Finding what works for you can help keep the anxiety monster at bay. The next time you are feeling a bit anxious, try something that you can fully put your attention too and see how it goes!
Now, if you are already in full blown panic mode (been there, done that, got the bumper sticker), there are still things you can do! This is where the handy dandy module called distress tolerance comes in! These skills have taught me how to try and calm the crazy if you will. These skills range from distraction to holding some ice to bring yourself back to reality! My favorite distress tolerance skills are holding ice, eating ice pops, working out or calling someone. They have helped me calm down during some pretty terrible times, and I am thankful I was able to learn them.
I highly suggest researching these skills to see what may work for you, but remember, while these skills can certainly help, they may not help in every situation, and if they don't, do not hesitate to get help! We are all kicking butt at this firewife thing, but sometimes, we need some help, and that's ok!
Have you ever learned or tried these skills? If so, I would love to hear what works for you!