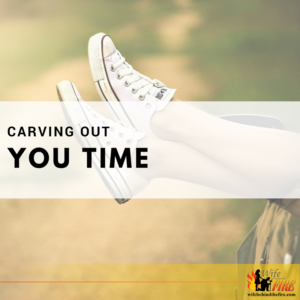 One of the hardest parts of living the firelife is the unpredictable nature of the schedule. Plans can change in the blink of an eye. One of the most aggravating instances for me is when I've made plans with friends or set up a hair appointment to treat myself and then I have to cancel because of a shift or a volunteer call. Learning how to prepare for these last minute changes have helped make all the difference in carving out time for me and my sanity.
Making time for me is important to not only me but my firefighter as well. He realizes and understands that I need time to recharge to help me be the best wife and mother I can be. Making time for me can be something as simple as setting aside a few quiet hours in my room working on a craft project or as elaborate as a full day out shopping and dining with friends.
Most of the time, my plans go off without a hitch. My husband is home to keep the kids with him and I can either go off into another room at home and chill out with a movie or activity or head out with my friends. There are some times though when a volunteer call comes in or a schedule shift runs into overtime and I'm unable to keep my plans or I have to come home to be with the kids.
So how do you carve out time for you when the firelife messes up your plans?
Don't let your time be put on the back burner. Just because his schedule changes doesn't mean yours has to. One of the best things we ever did was set up a few people who are willing to be "on call" in case we need someone last minute for the kids.
For times when I am already out and my firefighter needs to leave before I can get back home, we have a trusted neighbor who has so graciously offered to take our kids – day or night whenever we need it if she's home. Having her willing to help us is great for times where he's not home on time and I have to leave as well. Her children and mine are very good friends, so even if I just need an hour to get some household chores done, she is more than willing to let my kids come play to help in that aspect too.
Sometimes, no matter what you do the fire lifestyle is going to get in the way.
You can be the most prepared family, with backup babysitters and all sorts of safety nets in place, but you may have to give up your plans or me time due to your firefighter's schedule. It's just a fact of the firelife. There are simple fixes to this at home to keep in mind. Improvising with things like setting up a movie and popcorn for your kids in the living room while you take some time to read a book, watch a movie, or whatever it is that you like to spend your time doing. Set up a craft at the dinner table and set up a spa like bath complete with some soothing music.
If there's one thing I've learned being a firewife, it's that adaptation and improvision is necessary to being a successful firewife. Things never go as planned every single time. Tones drop, overtime is pulled – it just happens.
What are some ways you ensure you get your me time even when your firefighter's plans change? Do you have any key tips that may help a new firewife or a fire couple who is starting their family?
Live with no regrets,

PS – need more assistance in putting yourself as a priority? Download The Importance of Self-Care right now and implement the quick tips. Self-care doesn't have to be extravagant or expensive, but it does need to be a priority. New club launching on November 1st to help you focus on yourself daily as we get through this crazy firelife together. Get more info about the FireWife Club