Without a doubt, all of us firewives know we'll be celebrating some major events or holidays while they are at the fire station each year. It's just a matter of which one's will it be?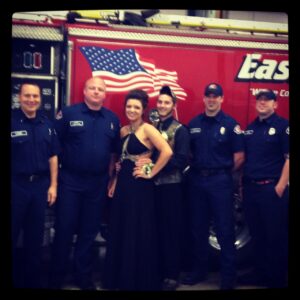 While we can plan ahead for the holidays since we know our schedule a year in advance, the things that come up after the schedule is set are always hit or miss.
Last April I blogged on my personal site about Prom Night Firefighter Style. I'm thankful for people that cover a few hours of shift and make it possible so he can be at things. Daughter only went to 2 dances in her 4 years of high school and there was no way Daddy could miss seeing how gorgeous she looked. While we knew we were going to the station for pics, you can't count on them being there of course. lol
We're lucky that our station is pretty tight. Hubby is at the main station with 2 other guys from his class. We wives know each other quite well and aren't afraid to plan visits or dinners.
Ways to Celebrate Last Minute at the Fire Station
Plan dinner – this can be used to create a special event also. We work to get birthdays off because obviously we know when those will be. Our station is really busy and there aren't very many times they'd turn down dinner being prepared for them.
Be flexible – hopefully the time can be a little flexible and you can stop by between calls with ice cream and a camera. Flexibility is key to staying sane as a fire wife.
Plan extra time – in the case of prom, we set up a 4 hour window before they were going to dinner. SERIOUSLY. Since the guys were all at the station they actually had to find other things to do before dinner, like go down to see my parents. But there was no stress this way. If we'd had to wait around for them to get back from calls we probably still would have been fine.
Will it always work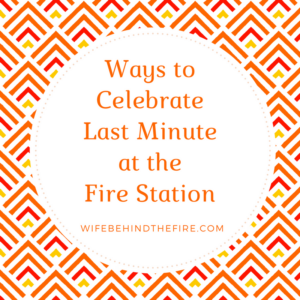 Nope, it's part of the being flexible. You may just have to go with celebrating without hubby. I know some don't live clo se to the district their husband works at. In that case your options are much more limited.
We live in district and about 6 miles from his home station. If we get a text he's home, we can usually get there before another call goes out, or at least in time to wave as they pull out. lol If I know what call he's gone out on, then we might stop and grab a coffee and be waiting for them to get back.
The biggest thing I have found is whether or not hubby can be there, you still have to make your event or holiday special. If you need to, then create a tradition you and a friend or you and family do for special events that hubby can't be there.