Back in February we did a Kitchen Table about chronic health issues. In that post, Ashley T. introduced us to her big battle with cancer. We knew she had it but not the extent. Like I said in that post, she's not a complainer.
But, a fight like that leads to some days that will break you down. I'm thankful she felt comfortable doing that with us. We all joked and chatted in the group until way too late. Which isn't as late for me here on the west coast. lol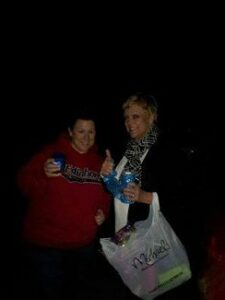 Then I got a message telling me two of the firewives were off to glitterbomb Ashley's house. OMG how perfect!
If you take away one thing from this post, it should be that Ashley likes glitter. Likes it alot-alot. Two wives joined forces and glitter bombed her house. I'm not sure how they got it done with how much they were laughing.
Thankfully they are smart enough to contact her husband before running around in the yard. Be safe people, don't wander around yards without permission from at least one party in the house. When the motion detectors come on you don't want the cops showing up or worse.
When they told us they were home it was so difficult to wait for Ashley to see it. Bonnie posted a cryptic message that only a few of us understood. Ashley was still up and chatting on the group, having no idea they had been outside her house while she's chatting. lol
The next morning we got pictures of the carnage.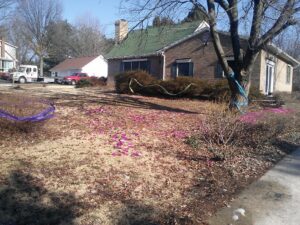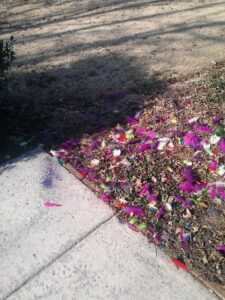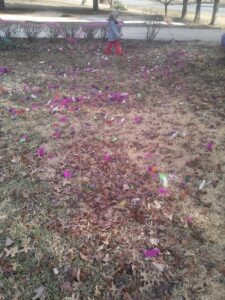 Glitter, feathers and tulle. If I'm not mistaken, the feathers were glow in the dark. So those were extra special for the next evening.
In case you wondered, no, there really is no way to clean this up. With glitter being the herpes of the crafting world, you can imagine how everything in and around Ashley's house is now glittered. Her neighbors now have feathers as well. It's become a community glitterbomb.
It did the trick and I'm so thankful to Bonnie, her daughter and Carrie for going covert and making her smile. What a great group of wives we have!
As Ashley continues her battle with cancer, the bills stack up. I've set up a fundraiser for her. You probably saw it there in the sidebar. It's brought in more than we originally hoped for already. But this battle isn't a quick one so we're still working on getting her to the end of the marathon. If you can help at this time, we thank you. But we understand that money is tight. If now isn't a good time for you to help, please share it everywhere on twitter and facebook. You can do that right from my sidebar, right this second. It will only take a minute to share. I really appreciate the help.