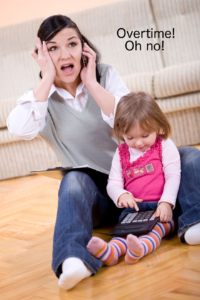 24/48, 48/72, 96s, recall, Kelly days, fire season and mandatory OT, are all terms familiar to a firefighter's wife.  In addition to balancing work, kids, marriage and other obligations, as most people have to do, fire wives also frequently have to deal with unexpectedly doing it alone.
The biggest snafu many of us who work outside the home, is childcare.  I can't tell you how many times I have been poised to leave for work, already given the girls kisses and lollipops (I'm not above bribery!), waiting for my hubs to walk in the door, only to hear the phone ring and hear that he's not coming home.  He has been assigned mandatory overtime.  So, with less than 5 minutes before I'm due to be at work, I'm scrambling to find childcare for my 3 kids.
It turns out bosses don't like you calling out.  Imagine that. So, over the last couple years, I've tried  various ways to make sure I have coverage to do what I need to do.
1.  Daycare.   Daycare is the most obvious and practical choice for many people. But it has it's drawbacks.  Most providers want you to commit to certain days of the week and don't allow drop ins on other days.  It can also be cost prohibitive if you have 3 little ones, like me, who would be there at the same time.
2. Childcare Swap.  The second option is creating a childcare swap with other mothers in your area.  It's even better if you can manage to have one with another fire wife because you know she 'gets it'.  This is a much cheaper childcare solution, as long as you are willing to participate.  It also creates a pool of people you could call, in a pinch, to find care.
3. Find a nanny or a couple of sitters with some flexibility.  This is a great option and the one I use.  It allows you to schedule what you need, for only the time you need.  You're not paying for time you won't use, like you might have to in a daycare situation. It also creates a list of people already familiar with your kids, that you can call if something unexpected happens.
4.  Create an "on call" list.  Occasionally, it will be hinted at that hubs could be stuck at the station.  In this situation, I ask a sitter, who can be availalbe to "hold" that spot for us, just in case.  I pay them the equivalent to two hours pay for holding that spot, even if they don't end up working.  I'm all about being proactive!  It is money well spent for peace of mind.
5.  Become a member of a sitter service.  I am a member of two local services here and they have been able to have a qualified, pre-screened sitter at my door in under an hour.
6. Does your job have flexibility?  Can you telecommute or work from home?  This a great cost saving option that reduces the mom guilt factor.  You working mom's know exactly what I'm talking about, right?
It really does take a village to raise a child, or just a really tough fire wife!