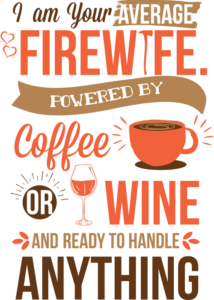 January is here and that means taking care of yourself for most of us. Why not buy a shirt that shows the world how you are dealing with this crazy life?
If you are in our group then you know this tshirt to be true. If you aren't a wine drinker then you are probably powering down the coffee all day as you try not to crash.
Yes, I jest…sort of lol
We all have those days we just need a super boost of power to get through a 24-48-72. Wear this shirt and see how many other firewives grin knowingly at you.
Order your Firewife Powered by Coffee or Wine tshirt!
If you are an Amazon Prime
member, it will ship for free. No hassles with a private company, I set it to ship directly from Amazon.
It comes in unisex (men's sizes) or women's cut, for those of you that like choices on how your shirts fit. Yes, there is a youth size, but amazon does that by default. Believe me, I'm not promoting this to kids. WEIRD! The design comes in 3 colors and sorry, but none of the choices are dark blue. Branch out your wardrobe from dark blue tshirts!
Enjoy the chaos!

PS – More shirts are on their way. Have something you'd like to see? Let me know. All shirts are my original copyrighted designs.