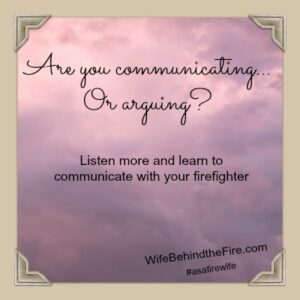 Well these "as a firewife" posts are meant to be short. Not an easy task when using the word communication!
Let me get the DUH statement out of the way.
Communication is key in your marriage.
K, got the cliche out of the way.
Oh hell, I rhymed. I'm going to blame it on the otter pops.
The word communication gets thrown around a lot. We all know it's important. But do you know how best to talk to your spouse so they actually hear you?
Or are you just yelling at them when things go wrong?
Hubby and I had been together for nearly 2 decades before we had our first fight. We had absolutely no idea how to get through it, over it, or move on. Because of that it escalated over time.  Same argument every 6ish months and no resolution.
Thankfully I started seeing through my frustration. I'm Irish. I'm finally calming with age. But the hot head was the one that was cropping up during our "conversations".  It was super unproductive and just frustrating.
I know over the years I had heard about starting conversations that were focused on,"I am feeling…. or I need…or I will work on…"
When I was able to communicate calmly and turn the wording into how I felt and how I wanted to try and make it better, how I was going to change my behavior, it changed everything. Overnight? Oh hell no, I'm not going to blow smoke up your butt like that. But if finally opened up communication between the two of us.
By yelling, it turned into a blame game and instant defense. No way to be productive when people go on the defense.
Have you figured out how to communicate with your firefighter?