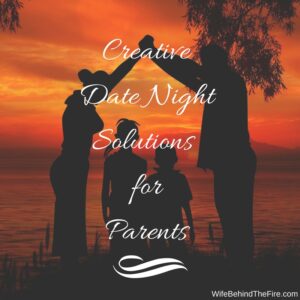 Trying to keep the romance alive and enjoy date nights when you have young children can be difficult. Raising children is expensive and time can be hard to come by! Having money available for date nights and babysitters usually gets put on the back burner. Someone always seems to need a new pair of shoes, or has outgrown their pants seemingly overnight. It seems by the time the weekend comes around even if you do have some cash set aside for a date night there are a million other household duties begging to be conquered.
So how can you keep your relationship a priority when you have little ones?
Date nights in!
Before kids, your dates probably involved some trendy new restaurant, the latest movie released to theaters or a friend's wedding. If there's one thing I've learned while having little kids, it's that in the early years you need to get creative with your dates. Early on we were like most parents, we didn't have a whole lot of time or money to devote to going out together. There was only a select few people I felt comfortable leaving my little ones with, and even if they were available we didn't always have money for the date expenses AND paying the babysitter.
While lamenting one night over how long it had been since our last night out on the town, we realized we didn't need to go out. We could have just as much fun at home for far less money, or even without spending a dime at all! Here are our top three favorite ways to have a date night in. Hopefully, these are something you and your husband can incorporate into your lives. Feel free to tweak them to your liking, the possibilities are endless!
Make a meal together! Eating out can be very expensive – you can make your favorite splurge meal at home for far less money, and have fun doing it! This is one of our absolute favorite things to do. We feed the kids their own dinner and put them to bed. Then we head off to the kitchen, turn on some music and get our cook on. It always tastes so much better when we make it together. We often set the table with nice dishes and candles and enjoy our meal and conversation.
Order dinner in and watch a movie. When our sitter isn't available, we love to grab a carryout dinner and catch a movie at home. Again, the kids get their dinner and head off to bed. We love to grab Chinese, and cuddle up on the couch and stream a new release movie. I always enjoy going to the movies with my husband, but there's something about being able to be in comfortable clothes, curled up with a blanket and my favorite food at home. Movie tickets are expensive, so being able to watch a couple movies for free at home is always nice.
Game night! This is one we have just incorporated recently, and it has quickly become one of our favorite ways to spend our evenings. After the little ones are tucked in, we make some popcorn or nachos or some other yummy snack food and dig out the deck or cards or a board game. Sometimes we even take over the kids' video games and go head to head at a car race or the like. We used to spend our evenings early on in our dating life playing video games together, so this is a fun way to relive those memories, and again totally FREE!
These are just a few of the ways you can make time for your relationship even with the challenges of having little ones at home. Don't put off making time for each other just because a sitter or the funds aren't available. It is important to keep the spark in your relationship and to let your partner know you still care about spending one on one time together. There are tons of creative options that you can incorporate from home for very cheap or free. What is your favorite date night in activity? Feel free to share it with me in the comments below!