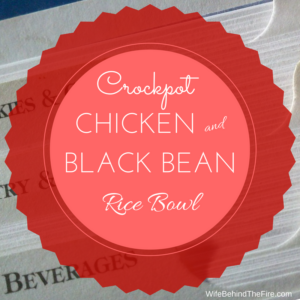 Some of my biggest recipe hits come out of a necessity to use up spare pantry items and leftovers. We really try to make an effort to repurpose leftovers and not let them go to waste. Leftovers seem to always be embraced easier if I offer them in a new form. My Crockpot Chicken and Black Bean Rice Bowl recipe came about one afternoon when I made entirely too much chicken breasts for another meal. I took it as an opportunity to clear out some staples from the pantry to make room for new. I never knew I'd whip up a family favorite that's requested quite often.
This recipe is very easy, half the ingredients go in the crockpot at the start, and the other half go in about a half hour before you are ready to serve the meal. This meal is very easy to double, just use twice as much water as you do rice. This batch size is perfect for a family of four.
Crockpot Chicken and Black Bean Rice Bowl
3/4 cup of uncooked rice
1 1/2 cups of water
1 cup of salsa (I prefer a chunkier salsa)
1 tsp garlic powder
1 tsp chili powder
a pinch of salt and pepper
Mix all of the above ingredients in your crockpot. Cook on low for 3-4 hours. This tends to cook pretty fast, so 3 hours is usually close enough. About 30-40 minutes before it's done, or before you are ready to serve it, add the following and stir well –
1 can of corn, drained
2 cans of black beans, rinsed and drained
about one pound of shredded, cooked chicken
Allow to heat the additional ingredients through before serving. I dish this into good sized bowls, and top with crushed tortilla chips, shredded cheddar cheese and sour cream. Also, if you do not have leftover or precooked chicken, canned chicken works just fine as well.
If you find yourself with leftovers of this meal, we have turned this into a quesadilla filling, as well as wrapping it up into a tortilla and making burritos. With the chicken and beans, this is a very filling and very versatile meal. I'd love to hear how you adapt it to fit your family!
I have found this is also a good meal to take to a potluck or to the fire station for the guys. Use a spicier salsa to kick it up for the men and it will surely be a hit!
What kinds of recipes have you concocted from pantry staples and leftovers? Do these new recipes go over well with your family? I am always eager to try new things especially on shift night, so feel free to share your ideas in the comments.
Crockpot recipes are always a crowd pleaser, easy on the cook, and quick to clean up too. Everyone is always looking to add to their crockpot recipe collection! What has been your family's favorite new crockpot recipe lately?