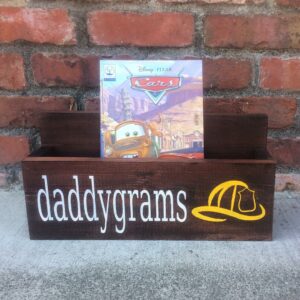 The boys are forever wanting to save things to give to daddy when he comes home from work. I love that they are thinking of him and want to find a connection any way they can. It's wonderful, but where is a person supposed to store all the rocks, pictures, paper airplanes, kisses, hugs, legos, etc for daddy while he is at work?
Enter Daddy's "daddygrams" mailbox.
Once again, the boys came up with the idea!
For this particular box, there are no rules with the exception of no living things or food items can go in the box. I also refrain from putting piles of mail in this box. It is specifically for the boys. They can put anything in there that they want to share with daddy when he gets home. It is a great way to keep them focused on the positive and share a connection with dad even when he can not be here.
How do you keep your children feeling connected to their daddy when he is away? Share with me in the comments below!