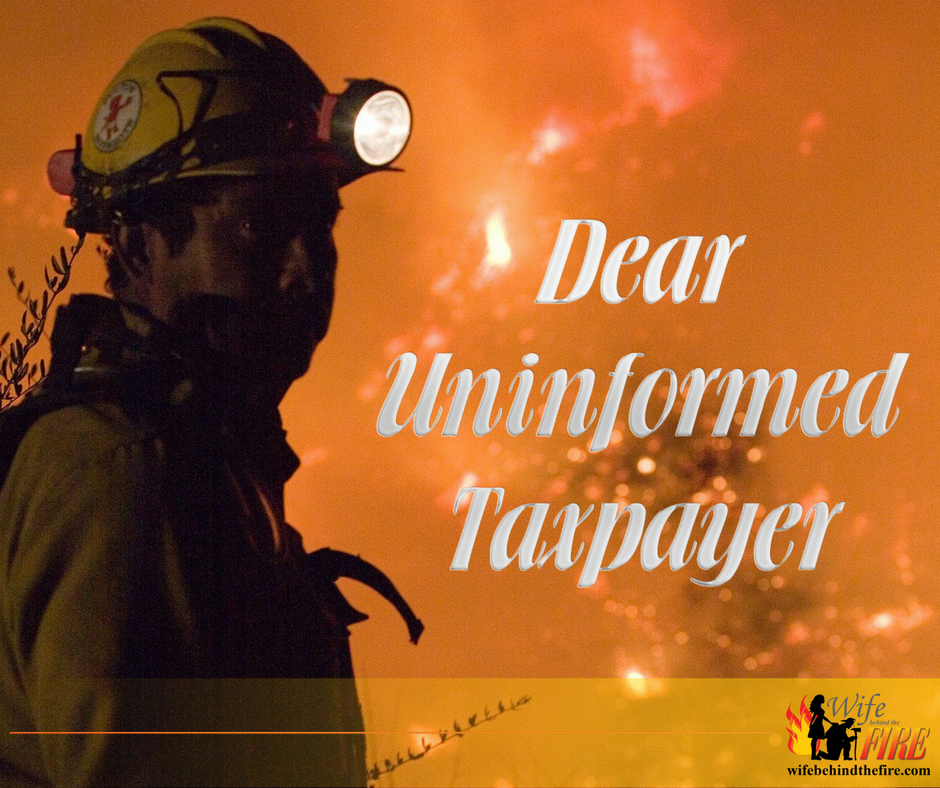 If you are on Facebook and in the firelife, you've probably seen the post from a guy in Vegas that went on a rant about the taxes he pays and what he thinks firefighters do on shift. It was a poor choice of his to make that little rant public. He ticked off more than a few people.
However, my friend Leah turned it into a giant learning experience. Even though she figured he'll never read the message, she still sent him one. She also posted the message publicly on her page.
You can go directly to Leah's post on her Facebook page. She has over 11,000 shares now.
As soon as I read it I knew we needed to share it here. What this guy says is something we hear frequently. In fact, we have had levies that didn't pass because of campaigns similar to this. And numerous elected officials around the country have taken a lot of money away from the fire dept due to ignorance and not caring to actual find out facts.
Thank you, Leah, for allowing me to use your words. Hopefully, we can inform a few more taxpayers about how things work.
This guy has taken down the post and deleted his account or put it into total lockdown. No worries, I took screenshots and so did 100's of other people.
In case you can't read what he wrote with the picture it goes like this:
"What I want to know is why am I paying in my taxes for firefighters to go to the gym, go to the store shopping, pay for their food, pay for them to stand on the corner and collect money in boots. Pay for them to sleep, I don't get it. They already only work half the time and make $100,000 year. Can someone help me understand this."
Leah writes:
"Hello Matthew,
Your post about FF's came across my feed this afternoon and since I do not have the ability to comment on the post, I decided to send you a message instead.

I'd like to point out some untruths you stated in your post. I am all for personal opinion, and you certainly are entitled to one, but I feel it's important to have facts rather than basing your opinion on assumptions as well.

1) You are not paying them to go to the gym. It is a requirement of the job to be in good physical condition and most departments require that their union pays for the gym memberships, the FF's pay for it out of pocket, or the gym donates/waives the membership fees as a good deed. While they are on the clock when going to work out, they do not get to "clock out" when there. The gym must be within their designated district and if the tones drop, they respond. Laws require that all other jobs are given adequate time for breaks and meals, FF's are exempt from that because they are at the mercy of the public need.

2) FF's work 24-48 hour sets and require food while on duty. You would too during a 24-48 hour time period. You do not pay for their food, they pay for their own. They do go to the store while on duty, but again, they do not get to clock out or ignore a call when it comes in. Go ask the store manager how many times they have had to put the FF's cart in the walk in fridge for them because they have been called out in the middle of getting food.

3) You do not pay them to stand on a corner and collect money in a boot for their own personal funds. The well known Fill-The-Boot drives are successful fundraisers that many departments have joined forces with MDA to put on annually. The FF's that you see standing in the sun collecting donations are generally off duty, but in their turnouts.

4) You do not pay them to sleep. As stated before, most work 24-48 hour shifts. While the potential for sleep may be there, they still do not get to clock out during the "sleeping hours". They are on call the entire shift, and sometimes that means that they don't get to sit down or eat or sleep. period. Their days and nights are at the mercy of the public, and Vegas is not a city that has much down time.

5) They do not work "half the time". Most FF's work what is called a 56 hour workweek. their 48 hour sets overlap in a 7 day period, thus making the average hours worked per week 56. If you take the pay you threw out there of $100k a year (I should mention that the starting salary for LV FF's is much closer to $50k per year), they make roughly $34 per hour. I know a lot of people who make that and MORE per hour and don't do and/or see what FF's see every. single. day. And if you take the more accurate $50k a year, that takes it down to about $17 an hour. I made more than that at my first job out of college.

6) They absolutely do still go into burning buildings, especially if there is a possibility of victims. It is very rare to not go interior on an active fire.

You see, I am the wife of that FF you are ridiculing. I know what goes on on the other side of things. I am the one my husband comes home too after 48 hours filled with no sleep, cramming one sandwich into his mouth while going from call to call. I am the one who has to watch him suffer after losing a baby. After extricating his high school classmate from a vehicle accident. After Pulling two children from a burning building. After losing a brother and sister to a Vehicle vs pedestrian because some jerk couldn't slow down in a school zone.

I am the one who sees her husbands job always under scrutiny because people like you decide to blast them without knowing all of the facts and details. I am the one who knows that when she kisses her husband goodbye in the morning, that he is going to work with the mentality that he will risk his life to save yours, even after the things you have said about FF's.

Thank you….

A firefighter wife"
Thank you, Leah!
Want to help educate more people? Share this post on Facebook, Twitter, or wherever you have an account. It needs to get to those that aren't in the fire life so maybe they will stop listening to these jerks and their lies and start looking at facts.