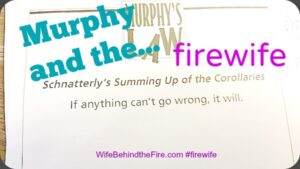 Thinking you are going to have a regular day is like saying I'm on a normal schedule. It means nothing in my world. Normal to me means my plans change within an hour of making them.
The days I have set up the best schedule are the days that go awry the fastest. I shouldn't think it's funny, but this time firefighter had a visit from Murphy. Which of course means me too.
He had a full day of nothing planned. Biggest plan was going for a quick run. How could anything go wrong with that?
BAHAHAHAHAHA
Where's your wallet dude?
I too had an easy day scheduled out. Plenty of time to get the few things done I wanted to do. A quick run was on my agenda as well. I mean dinner was even planned out and ready to go.
But, it's not like I can let him drive to the station to find his wallet, when we know he doesn't have a license on him. THAT is just asking to get pulled over and more headache. So back to the station we go. I hang out in the car as he runs in. I figured he knew right where it was. No biggy.
Umm, no wallet and of course the engine isn't there for him to look through.
Only thing he can think of is it's at the call they went on. Off we go to retrace their steps. Thank you mother nature for not raining.
Hiking up and down in the tall grass looking for a brown leather wallet was making my eyes cross. But they glossed over when we hit the tree line and I had to try and look around in dirt that's covered with giant brown leaves and branches.
Did I mention we are looking for a brown leather wallet?
I think it's time to get him a neon one.
Is this the appropriate time to mention I've had a slight nagging headache for a few days?
Back to the station where we eventually did find it. Let's just say that Momma knows better than to not search for something with any of the kids. No matter how old that "kid" is. I will take responsibility for not going into the station to search with him the first time. By the time we found it, it was almost dark and I was starving. I'm eating correctly and that means if I skip a meal it's a big deal. We have to get home and make dinner for all of us.
No running happened 🙁
Nothing after teaching class in the morning happened on my list that was supposed to.
If I have a day planned out. Something like this will always happen. Shift days when the kids were younger, meant their lunch would be sitting on the counter. One of them would call to come home sick. "MOM, you've got to get to the school asap." I forgot to have you sign….I forgot to pay for…my head isn't attached Mom, can you please bring it to me? And the ever famous…I forgot my uniform or shoes or some other important thing on meet, dual, game day.
It's life and sometimes I wonder if it's everyone's life or if the universe just thinks it's funny to pick on certain people. LMAO
Am I preaching to the choir here or do your days mostly go as planned?