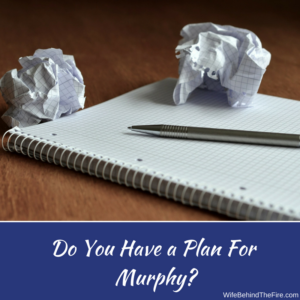 You have seen posts from me before on Murphy's Law. Most firewives are well aware that Murphy comes knocking on shift days, reeking havoc anywhere it can. Whether the brand new washer starts leaking all over the floor or your child that was playing outside is now standing in front of you screaming with a broken arm, it seems these things never happen when your firefighter is home and available to help. Nope. Dealing with Murphy is just another perk of being a firewife. Do you have a plan in place to prepare you for these emergencies?
Planning for Murphy is next to impossible, but taking a few steps to prepare for these situations can help manage them a little easier especially when you are handling them alone. So what are some ways you can plan ahead for Murphy? This depends on your situation. Are you a homeowner who handles all your repairs and emergencies yourself, or are you a renter and all you have to do is call the landlord for help? Do you have children who you may need to set up childcare for at the drop of a hat, or are you only going to have to account for yourself? Keeping in mind the types of situations you may face helps you plan ahead a little easier.
In our younger years, we tried our best to keep important paperwork in a safe spot where we both were aware of. Inevitably, someone would pull an owner's manual out and leave it lay on the counter when they were done, and it would get tossed with yesterday's mail unknowingly. I decided that we needed to have a safe dedicated place once and for all – I trotted off to our local office supply store and picked up the biggest three ring binder I could find. I divided off tabs for owners manuals for all our important appliances like the washer and dryer, the furnace, dishwasher, tv, etc. I also included a list of important numbers for trusted repairmen or other friends or family who were able to help with repairs or emergencies, as well as copies of our insurance cards and any other important paperwork that one might need in a hurry. When Murphy strikes, it is always reassuring to know that you can find all this information in one place right at your fingertips.
If you are a parent, it may also be helpful to have a list of people who are willing to take your children without much or any notice. If you live near family, a grandparent may be willing to lend a hand if you need childcare in a hurry. If you have no family in your area, a trusted neighbor, fellow firewife or a mother of one of your children's friends may be able to provide care for you if a situation arises. Having these people already set up and their phone numbers handy eliminates the worry of not being able to find someone to keep your children if you need to focus all your attention on a given situation or emergency. Again, taking precautionary steps ahead of time can save time and stress in the long run.
What are some other ways that you have prepared for the unexpected while your firefighter is on shift? Firewives are great improvisers! We can all learn something from each other. We all have our own set of circumstances and may run into things that others have not yet experienced. This is one of the positives of being a firewife – if you have not yet been there, there is a firewife who has and she is always more than willing to share her experience! If you don't have a plan for Murphy already in place, sit down with your firefighter and map out some ideas. Having your ducks in a row ahead of time is so beneficial!