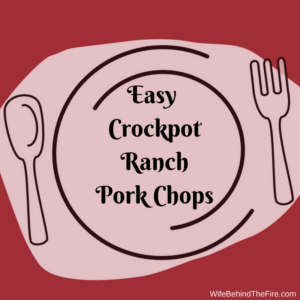 Once the weather starts to change and sweaters and boots take over my wardrobe, inevitably out comes the crockpot. I don't know what it is, but there's just something about a cool fall day when dinner is cooking itself in the crockpot. Fall also means back to school time for many families. When shift day rolls around and kids have homework, sports practices and various meetings it helps to have a leg up on dinner time prep. This recipe has always been a hit with all ages when I make it.
RANCH PORK CHOPS
thin cut boneless pork chops
2 cans of cream of chicken soup
1 packet ranch dressing seasoning
When I'm cooking for four, I like to use 8 thin cut boneless pork chops. You can use whichever kind of pork chops you'd like, just remember it may increase the cook time a little if you are using thicker pork chops. Also, the thinner pork chops usually go over better with the younger crowd I've found. This is also a recipe where a crockpot liner comes in handy for clean up, I tend to have "gravy" left over after the pork chops are gone and it's nice to just be able to lift the liner out and throw it all away.
To start, I pour the two cans of cream of chicken soup, the packet of ranch seasoning and two of the soup cans filled with water in a bowl. Mix it together until combine well. I put a bit of this mixture down in the bottom of the crockpot first. then I layer four pork chops, depending on your crockpot size, it's ok for them to overlap some. I put a little more of the mixture down, then layer the last four pork chops. Finally, I dump the rest of the mixture over the top.
Typically I cook this for 4-6 hours on low. If you put it in the crockpot in the morning and are out of the house for most of the day, the "gravy" mixture helps keep your pork chops moist. I usually serve this with mashed potatoes, but when I don't have time to peel and mash potatoes I throw some rice in the rice cooker. My husband or kids are the ones who usually pick the veggie side, so I can vouch that just about any vegetable side works well.
This is a great, easy meal for shift nights but also a hearty one that works well when my firefighter is home to eat with us too. It's so simple with just three ingredients – ingredients that we all usually have on hand at home! When you give this one a try, please let me know how it goes over in your house! Firewives are always looking for simple meals, feel free to share your own favorites for us all to try!