Firefighters are known for their strong brotherhood, loyalty to each other, and a bond that they form while performing their duties. This makes sense because they experience things that non-firefighters can not even imagine. However, although they express their emotions and their passion about being a firefighter and their loyalty to being a firefighter in a healthy manner to each other and others; many times they do not express emotions or passion to their wife or about issues outside of firefighting.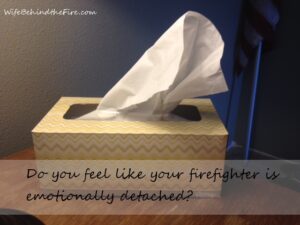 Many wives in my personal life have expressed that they feel they are married to robots. The firefighter does not show any emotion in the home to her; the firefighter detaches when issues arise with the children, and the firefighter detaches when tragedy hits the family. The perfect example of this type of detachment occurred when a personal friend of mine found out her father had stage four cancer. The week before this he appeared to be in perfect health. The week after he found out he passed away.
This was a traumatic two weeks for her. Her husband, stayed at the station during the majority of this time. He did come to the hospital when the doctors announced that the father only had a few hours to live. The wife was standing over her father, crying, in shock, and totally devastated with grief while her husband stood beside her yawning. After a few minutes, the firefighter went to the television in the hospital room and turned on a football game. He stayed in front of the television watching football until her father passed and the doctors informed the family they needed to leave the room.
Not once did the firefighter even show the least bit of sympathy. When she confronted him about his behavior he got mad at her and told her that she was being overly sensitive and stupid because he did not do anything wrong.
Unfortunately, I hear of similar events all of the time from various firefighter wives. Psychological theory states that firefighters must learn to detach as a part of their training in order to perform their job duties and survive. The theory goes on to say that firefighters will also learn to detach in their personal lives anytime a crisis hits just by default.
Therefore, it takes a special woman to be a firefighter wife. She must be one who understands that a firefighter is not going to give her the emotional bond that most women crave in the "you can cry on his shoulder" type manner. These couples must find other ways to create emotional intimacy and bonding.
Have you noticed a detachment issue?