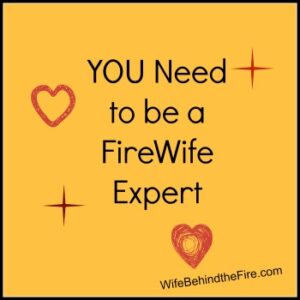 I'm an expert firewife.
It's true. I've been married for 20 years.
Dictionary.com definies expert as possessing special skill or knowledge; trained by practice; skillful or skilled.
I've been practicing being a firewife for 14 years. Pretty sure that makes me an expert on the subject.
You too can become an expert. If you won't want to become one then we need to have a talk.
Becoming an expert means asking questions. Researching answers. Most of all, using the resources around you.
It's quite easy since you are going to become the expert firewive of YOUR marriage. Not mine, not your neighbors, not the new girl in the group or department. You need to be the expert in what makes your marriage work.
Even though I'm an expert, I can't tell you want will work for you. I'm more than willing to tell you things that have worked for me. But even those things change over the years based on new life experiences.
Ways to become a firewife expert
Talk to your firefighter. I don't mean huge major discussions here. I mean when they get home, start small talk. It's amazing how few people start off with the simple,"How was your day?"
Learn to read signs and body language. I'm lucky that I can generally greet my FF at the door when he gets home. That point from the truck to the door says a lot about how shift went. But pick up on other things. Are they doing something out of character? Ask some simple questions to see if they want to talk about anything that happened.
Don't hit them immediately with everything that went wrong while they were on shift. I know this is hard not to do. Beyond hard! BUT, they need to decompress and switch roles from all the negative they just went through. If you hit them with a ton of negative immediately then you just took away a safe spot.
I know a lot of people aren't blessed with kick ass firefamily like I have. I love having local firewives I can connect with. If that's not an option, then you definitely want to find some other wives online. It makes it easier to get through shift days. It will also help you not need to hit him with all the bad stuff when they get home. You can tell your online friends and the vent is already over 😉 We have a FB group for that! lol We also have a community here on the site.
It's not that difficult to become an expert in your relationship. You just have to decide that it's a priority.