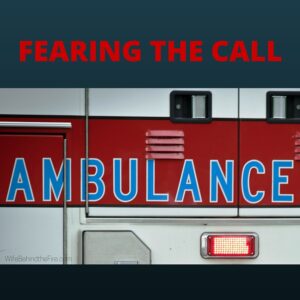 As a firewife, we think in dread about the possibility of our firefighter getting injured or even killed on the job. We know it happens and pray that we never see it happen to us or someone that we are close to, but we plan for the worst just in case.
I fear the image of being at work and looking up to see a group of firefighters at my office to notify me of something awful. Is that how it could happen? I don't even know and I don't want to find out.
Instead of a firefighter coming to my work, I got a phone call from my husband who was home alone to let me know that he had called an ambulance. As usual, he seemed so calm and reassuring when he told me that he fell from a ladder (ironic right) and thought he had dislocated his hip. He told me not to worry, that he would call me later from the ER, and told me to go back to work. Yeah right! How would I ever be able to focus now?
I asked him where he was at and where the ambulance was. He had just gotten off the phone with them and they were on their way. But we live in the country and that means it could be a while, so I made him stay on the phone with me until I could hear the sirens screaming through the phone.
One of the perks of having a firefighter in the family is that he knows the paramedics, the ER nurses, the doctors on call and they take extra care of their own when something goes wrong. My firefighter knew everyone taking care of him and that made it a little easier on him when the roles were reversed and he become the patient.
My husband did not dislocate his hip that day. He broke it…along with some ribs. I will never forget the doctor delivering the news honestly and bluntly, and the way both of us went completely silent not knowing what to think or what to say. Completely unbelieving that we were in this moment.
What was going to happen next? Could he go back to work after this kind of injury or was this going to end his career? No matter how well the staff was taking care of him, the lightheartedness that they tried to maintain for us slipped out of the room as the fear crept in.
The next week was a whirlwind. Wonderful family and friends stepped up to take care of our son so we didn't have to worry about him. Firefighter coworkers were filling his room as they dropped by to check in on us and offer assistance. Different doctors, nurses, and an Orthopedic surgeon were in and out checking on him.
More than 29 hours after the injury at 9:30 pm, my husband finally went into surgery to install a plate and screws in a procedure that was only expected to take an hour. He was thankfully able to avoid a full hip replacement at age 33. Four hours later at 1:35 am, the surgeon came out to tell me that he was in recovery and doing okay. There were complications…lots of complications including multiple broken screws after installation and muscle shearing that they had not expected. There was an extra risk of infection and the surgeon already said that they would be keeping him in the hospital at least an extra night if not two.
He was lucky…so incredibly lucky. Broken bones, but nothing that couldn't be fixed with time. His head missed a concrete step by probably only six inches and instead landed on a half full bag of dog food. It cradled his head instead of hitting the concrete. It was all so close to being much worse.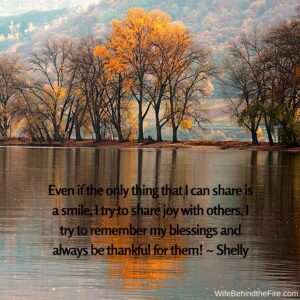 In the few years surrounding my husband's accident, we watched as three local families lost their firefighter husband, brother, son, father. We attended a LODD funeral and two additional funerals due to heart attack and grieved with their families.
I watched my husband in the midst of recovery struggling to walk and have so selfishly been grateful that it wasn't my family planning a funeral. I  don't know why we were so lucky. I have pondered the why and all the details many times. I know that I will never understand and I pray even harder for the families that are not as lucky.
Something in me shifted that week. Something that I can't really explain, but I question things more now. I still wonder why and I try to make my life more purposeful. I can't change the world, but I can try harder to make the world a better place. Even if the only thing that I can share is a smile, I try to share joy with others. I try to remember my blessings and always be thankful for them.
Please share the big or little blessing that you are thankful for today!