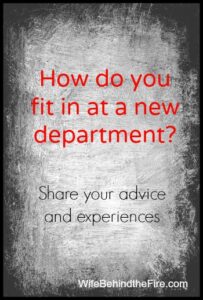 I've been slacking in the Q & A department. Life has been crazy busy and crazy fun. Our groups have been chatty and it can get difficult to remember to write over here when we are having a good time. Note to self, get over to the site at least once a week.
I had a question sent to me a while back and I know many others can help with tips for this question.
How do you fit in when your firefighter switches fire departments and you don't know anyone?
It wasn't too long ago and that was me. We really didn't hang out with anyone from the department when he was a volunteer. It wasn't a tight group like so our neighboring department.
When he was hired on, I knew no one. I'd heard some of the names because he worked with them as our department had merged as a volunteer, but we didn't hang out with anyone.
His class was a very mixed age of guys. Mostly married and quite a few were more our age. For us that was easy. The guys decided we'd have bbq's and it took off from there. Not right away because adjusting to being on paid was huge, but we eased into it.
Now we do a lot with our fire family. We girls have a book club, we've tried a big bunco group and yearly camping trips of course. We've become friends, not just the wives that talk to each other when the group gets together.
Typically there will be people our spouses bond with at the department more. When that happens then suggest you all go out to dinner, or go have a drink, etc. It's just like dating. Set a date and get to know each other.
Do you have experience moving to a new department you can share?