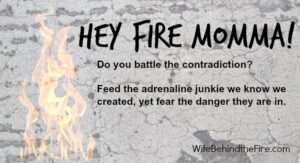 We knew our state was a match just waiting to light. Western Washington has never been this dry.
The match seems to have been struck. Wildfires have been everywhere, but now it's in random places close by even.
FF didn't go to the one fire I asked him about, but I hear there is another one that the brush rig left to (no firefighter isn't on that either, we really don't have the resources to send more staff).
The wildland princess hasn't been called back to work and that's blowing our minds. Pretty sure the last fire is DNR lands.
Why does this matter? It's my first real battle as a firemomma. I know she needs to get her fire on and go get dirty. I want her to get dirty. I worry she may lose interest just driving around in a truck and putting out little stuff. She's an adrenaline junky like her dad. BUT, I can't help but be happy she's in safely in her room.
It's her second season and she has barely seen a fire. As a Fire Momma, I'm ecstatic. As someone that knows how these firefighters are, I'm sad she hasn't gone out yet.
BUT, she's just 20. And I mean just. But so are others that have passed in previous fires.
This FireMomma crap is the worst contradiction. I worry about what a wreck I may be when she gets deployed to a big fire.
I'm in uncharted territory when it comes to her. There aren't a lot of female firefighters, let alone Momma's of girls that are firefighters. I love that I'm part of a new thing where daughters follow in their fathers footsteps!