Welcome back to the second installment of Firewives Guide to PTSD.  Today, I'm going to discuss the symptoms of Post Traumatic Stress Disorder.  As Firewives, we may not be on the front lines, so to speak, but no one is better placed to spot and help a firefighter in need.
PTSD symptoms tend to fall into 3 categories.
1. Re-living the Traumatic Event(s) – This can include: flashbacks (feeling as though you are living through the event again), nightmares or night terrors, intense feelings of anxiety or distress when reminded of the event (often called triggers), physical responses such as sweating, rapid heartbeat, nausea, or breathlessness.
2. Avoidance and Numbing – This is can include: a complete of avoidance of anything (places, people, movies, etc.) that remind you of the event, loss of interest in previously enjoyed activities, feeling completely detached from others (including spouses), extreme distrust, a sense of being emotionally numb or a feeling of impending doom.
3. Hyperarousal– Also called hypervigilence, this can include: a constant feeling of being on alert for danger, sudden and intense outbursts of anger (rages), irritability, inability to fall asleep or stay asleep, or trouble concentrating.
Other potentially dangerous conditions frequently associated with PTSD include: substance abuse, depression, chronic pain, self harm, and suicide.
The symptoms of PTSD can be as varied as the individuals experiencing it.  It can include many of these symptoms or just a few.  If you suspect your firefighter is experiencing symptoms of PTSD, find help. Contact your FD, union or the IAFF to find out what resources are available to you.  Many are low cost or free of charge.
I'm going to let y'all in on a little something.  This isn't just a topic to research and write about for me.  It's personal.  I love a survivor and PTSD sufferer.  My firefighter and I have walked some long dark roads and weathered some terrible storms, but we are still here, together. I've learned that love is stronger than any other emotion. So, ladies, love your firefighter and hang on.  Love saves lives.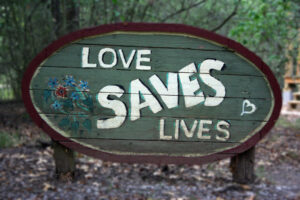 Other articles in the series:
Firewives Guide to PTSD – How to Talk to Your Firefighter
Firewives Guide to PTSD – Treatment Options
Firewives Guide to PTSD – How to Survive Your Spouse's PTSD