WHAT. A. YEAR!
It's been about a year since our Ashley found out she had breast cancer and thankfully found our group.
Happy to report, she's been cancer free for two months now!
She was the one that came up with the slogan for our breast cancer awareness shirt. In major part because of the gals that glitterbombed her house last April lol Read more about Cheering Up A Firewife.
She has said that we never let her feel alone. That is music to my ears. While not everyone can help financially with fundraisers, everyone can take time to be there for someone that needs it. Find your cause or just find a friend that needs you. There doesn't always need to be a major disease for us to help.
While we were helping Ashley, For3Sisters found us. I love them. I love the concept. I love that they are there to help you find the perfect resources. Just like our group, they are here to help you not be alone.
I had a graphic designed and we are having a fundraiser! This shirt kicks ass…yes, I say so myself. I set up the campaign for 2 tshirts and a hoodie so you have some options.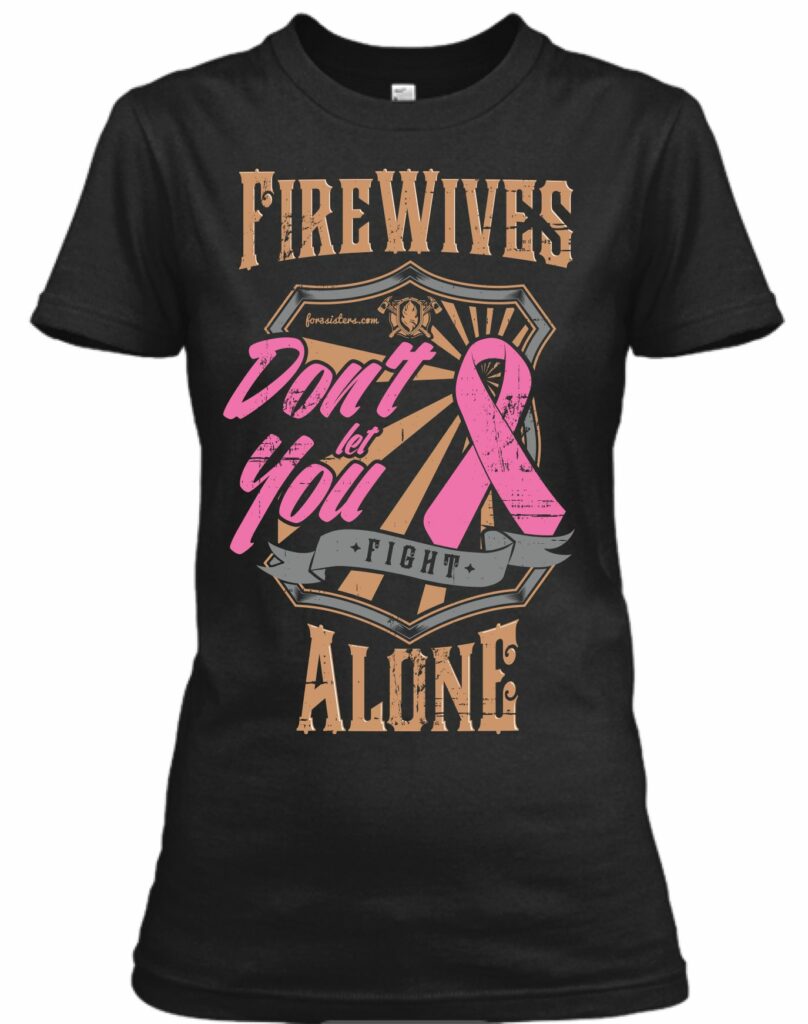 Sorry, the graphic is actually on the back of the shirt and it's on navy, but I couldn't get an image to save like I wanted.
You can purchase this shirt or hoodie right now at TEESPRING/wbf-for3sisters
Again, the campaign is live until October 7th. Not long. Please share this post with every wife you think might want to buy a shirt and pin it!
I sent some questions to them and the answers solidified why I instantly loved everything they stand for and are doing.
ME: When did Marshall decide to become a resource for other fire families? Was the walk that used the station that September, the turning point?
The walk in September was the turning point. It was life changing. Marshall was in a really low place after his third sister died. Then all of a sudden total strangers united and showed Marshall love and support like he'd never experienced before. That was the day Marshall started his journey of healing. That was the day both our lives changed, and we've never looked back.
Once Marshall realized we could really do some great things and reach a lot of people, it only seemed natural to reach out to our own fire department family, as well as other families. It was a no brainer – no question!
ME: Do you have access to resources in each state?
Yep, we sure do. Resources generally work on three levels, sometimes four levels – nationwide resources, state level resources, county level resources, and then sometimes city level resources. When we work with a new participant, in addition to searching the resources we already have in our database, we do an external search for resources for the county and city in which they reside.
ME: How many events do you hold a year?
Funny you ask, not many. Though we've been a registered non-profit since 2011 we didn't receive our federal tax exemption status (501c3) until this past July. Until July, donations made to our organization weren't legally tax deductible making it harder to build a budget. That's all changed! We're really excited – we have a 5k and a golf tournament in the works for 2015!
We DO get out into the community. We get out there as exhibitors, vendors, or just get out there so that we can meet and talk with people, teach people about our programs and about breast health, and listen to our community tell us about their experiences and their needs. We're not afraid to get out into the community and meet people!
ME: How do you find your resources?
Word of mouth, Google, and lots of chocolate! We always accept resource recommendations by word of mouth. Often cancer survivors and families will share with us the resources that they found most helpful.
We also find our resources through advanced Internet searches. Most people when doing an Internet search won't go past page 2 of the search results. When we conduct a search, we go way beyond where most people go. We often look at page 60 or 100 of the search results. Some of the best-kept secrets are on those pages!
One of our most fruitful techniques though is to data mine the resources pages of the organizations we're checking out. For example, let's say I find a cancer organization in Tampa, Florida. Their organization meets our needs so we add them to our database. Then we check to see if they have a "resource page". Often times, organizations will link to other local organizations in the area. So then we click on each of those organization links. They look good? We add them to our database and then check out their resource page…. and so on, and so on. THIS is why we need lots of chocolate – to keep our energy up!
Probably the last thing that is really critical is not necessarily how we find them but making sure we don't create tunnel vision for ourselves when looking for resources. Just because a person is diagnosed with breast cancer doesn't mean you have to receive help from only breast cancer organizations. We look at cancer organizations, breast cancer organizations, charity organizations that help people with life threatening illnesses who work in a specific occupation, public charity assistance for low income, government resources, and more. It really opens up opportunities for assistance!
ME: I saw that you have helped some local 3 day walking teams, is this something you are looking to expand? Also, are you looking for people to attend events around the country to get your name out?
For 3 Sisters is sponsoring a Susan G. Komen 3-day for the Cure walking team for its 4th year. We do not give any money to Susan G. Komen, rather our "sponsorship" involves creating a team environment that fosters camaraderie, fellowship, and a desire to raise awareness, raise money, and make a difference in the fight against breast cancer. This year we have a team in Philadelphia and a team in Minnesota.
Regarding other local 3-day teams, our Founder, Marshall Moneymaker, has been known to make appearances as The Pink Fireman, by request, to some of the local 3-day team fundraisers.
The other way we support local 3-day teams is by offering support on the 3-day route during the actual event. For 3 Sisters and The Pink Fireman can often be found with snacks, drinks, supplies, and information along the route but more importantly, really, really good music! 60 miles is a long way to walk – good music makes each step a little easier!
We are planning to attend more events in 2015. We're looking to attend events that help us get out program information in the hands of people who need it, as well as to help educate the community about breast cancer. Now that we are a 501(c)(3) nonprofit, our budget will increase and we'll have more flexibility about where in the country we go. If someone would like For 3 Sisters at an event, we are happy to oblige but ask that travel costs be covered.
ME: Do you have an estimate on how many families you have helped?
Yikes, I wish I had a more accurate estimate on how many families we've helped but I don't. We touch families in so many different ways. We've helped families in person when we're at events, and our social media has helped families with information and support. We haven't yet figured out how to put a number on that type of help and support, though we're working on that.
Our other programs, like Road to Resources, is growing quickly. The program soft launched about a year ago, meaning only word of mouth and some Facebook advertising about the program We have 64 people enrolled in the program, and of those 64 people, 36 of them have received more than $93,0000 in resources as a direct result of our efforts. That number doesn't include putting a dollar amount to resources like support groups, or other information requested. And it also doesn't include the resources that we've applied for but have yet to receive a decision.
After reading this, you see why I'm loving these guys. They are about much more than the money raised. To put it quick and easy, they are there. They want to help, just start talking.
If you prefer to donate to them directly, you know there's a link for that!
Quick, a GIVEAWAY!
I'm going to giveaway one of the canvas ringspun tshirts. Valued at $25+ shipping. When a winner is chosen I need an immediate reply so I can get it ordered in the size wanted before the campaign ends.
It's easy to enter. Enter as many of the items as you like for extra entries.
Contest is only open to residents in US and Canada and to those 18 & older. Now that we have some formalities out of the way…
Mandatory entry requires you to comment below with how breast cancer has or hasn't affected your life. All other entries after that are optional for more chances to win. If the mandatory entry isn't completed, then the rest of your entries are void.