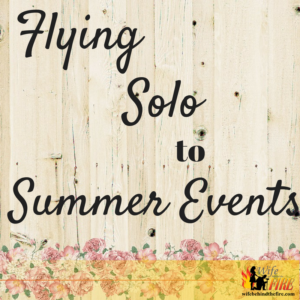 I'm sure your calendar looks a lot like mine over the summer months – weddings, graduations, graduation parties, barbecues, family reunions. There's a pretty good chance if your husband is a full-time firefighter a lot of these events fall on shift days. That leaves you with one of the most common firewife debates – do I skip this event or attend it alone?
The first few years after my husband joined the fire department, I would skip events. I didn't want to have to deal with taking my kids and managing them at big events alone. I also just wasn't used to going to those types of functions without him and wanted to avoid all the questions that always come up.
Eventually, I grew tired of missing out on fun family functions and celebrating special events with people near and dear to our family. As my kids got older, it was easier to take them to functions on my own. The more events I attended without my firefighter, the more tricks I adopted. Now I'm very comfortable attending events without him. That's not to say I don't wish he was able to join us and have fun, but it is more of a normal occurrence now to make plans while he's at the station.
One of the quickest things I learned to accept is it's okay to leave early. Graduation parties tend to be scheduled right around what would be nap time in our house. Weddings and receptions run far into the evening and my children don't do well staying up too late. Attending events with my younger children wasn't nearly as stressful when I accepted the fact that it was okay to leave if we need to even if the party wasn't over yet. My sanity and their good attitudes were much more important to me than sticking it out through an entire event with cranky children.
Sometimes I avoided the children issue altogether and took some me time. I had a few babysitters that were usually available. Especially for things like weddings, getting a babysitter and attending alone while my husband was at the station was a treat. It gave me a chance to get out of the house and enjoy some me time. My kids would have much rather stayed home playing games and watching movies with a fun sitter than tag along at adult events anyways.
The other lesson I quickly learned about attending events alone is that there will always be questions. At least one person will ask you where your husband is. Someone else will ask why he couldn't just ask for the day off. Another will question if you are even still together because they have seen you at several events in a row alone. I had to realize that the fire lifestyle is not easily understood by those who don't live it themselves. Most people can take a personal day for an important event, and most don't work weekends like firefighters do. 911 doesn't stop for the weekend, and neither do our firefighters. Adopting witty replies to their questions, or just learning to accept that most people really don't understand our lifestyle is the only way I can deal with the constant barrage of inquiries.
Don't let RSVP'ing for one deter you from attending events alone. Your friends and family invite you because they want to share their special moments with you and spend time with your family. After you have been in the fire lifestyle for a while, they won't bat an eye at your attendance without your firefighter and neither should you. Don't let life stop because he's on a call or on shift.