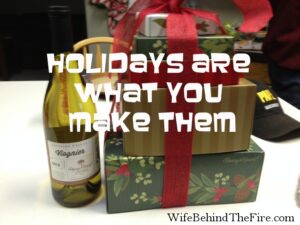 Since, I've been on bed/couch rest for the last two weeks, I've had a lot of time for observing. Way too much time lol
I know it's the holidays and everyone is stressed out. I'm not in that same boat since I got almost everything done before December. This years just not as stressed as normal. But everywhere it seems to be a lot of negative. Focusing on the negative.
It's like a competition was started that I didn't know about. Let's see who can complain the most about his work, his shift, everything I have to get done and how the world just sucks.
It does. The world does suck and especially many people in it. But post upon post about it is just too much. It's definitely not what the Christmas season is about.
But all of that above is what normal civilian types deal with. Now we need to add in all the time we are doing the holiday stuff solo and the added aggravation of knowing you may not see them on the holiday itself. This time of year can be especially hard due to calls our husbands have to deal with and family members that are at those calls.
Like the holidays weren't stressful enough right?
So instead of focusing on all the negative, here's some ideas for doing the opposite.
1. Stop & Breath. Guess what? No one will know what you didn't get done. No one but you. Give yourself a break and sit to regroup when necessary. Some years the fire schedule just means that you need to cut back on what you normally would do.
2. Adapt Your Schedule. See if you can move things around so that you have more breathing room. If you are stressing out because you have 3 get-togethers all in a row, speak up. Tell people it's not doable and that you need some things to be moved around or you won't be able to attend everything. Learning to say NO is one of the hardest things when it comes to family.
3. GO TO THE STATION! If he's working on the holiday, then put plans in place to visit. Talking online I don't run into too many dept's that aren't family friendly. I mean, they have school tours and boy/girl scouts tours all the time. No reason why the family can't get a tour. If possible, see if some of the wives want to get a cookie/dessert or dinner together for the holiday. If nothing else, just stop by for 15 minutes. If you are depressed about spending the holiday alone, that 15 minutes will go a long way.
4. Make New Traditions Just For You. What you do will depend on how old your kids are, if you have kids, if you have family around, etc. Create a new tradition that is all about you. There's no reason why you can't go to a movie alone on Christmas Eve or Christmas day every year if he's on shift. Plan that you do a spa day at home any holiday he's on shift. If you've got kids, turn the living room into a slumber party and have movie marathons in holiday jammies.
5.SUCK IT UP, BUTTERCUP. When all else fails, it's just time to suck it up. We haven't gotten to spend Christmas with either set of my in-laws for the last 5 or more years. I just looked and we won't have a 4 day over Christmas until 2017 so it won't happen until then. My kids are now older so I never know if I'm going to be home with just the dogs.
The holidays are only going to be what you make them. If you chose to look at all the negative going on, then you are ruining your own holiday. No matter how many bad things are going on, there are always good things going on in your life you can choose to focus on.
Yes, it sucks when I have to do holiday stuff alone. But I would never trade it for him being in a job that he was guaranteed to be home every holiday. The fire life means I have so much more time with him and  he can attend so many more sporting events for the kids that he never would have been able to go to if he was still in construction. I'll gladly miss him and be lonely on a holiday if it means having all that time the rest of the year to spend with him.
When in doubt…bake some cookies and open the wine. Traditions start with you.