Welcome to a new year with a new breast cancer awareness shirt. Maybe some year soon we won't need to fundraise.
I'm going to keep this short. I love what For3Sisters stands for. I'm sorry the pink firefighter went through his tragedies, but I'm thankful for how many he has helped with the organization.
I'm running a teespring campaign again this year with all proceeds going to For3Sisters. Many of us get strength from wearing our WBF shirts or hoodies and have asked where they can get the shirts we wear in our selfies…this is where.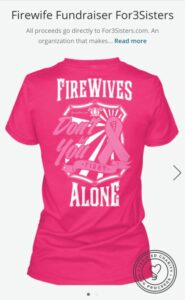 Please order your shirt or hoodie here! This campaign ends on Sept 23rd so don't wait. I'm going to retire the design after this campaign.
If you are someone that has already ordered a shirt or two and win the giveaway, then I will send this shirt to a person of your choosing if you like.
Enter the contest to win a free tshirt for you or someone you love!
This year we are getting our shirts before breast cancer awareness month because we want to wear them through October. So enter this contest before September 20th so I can get your order in. I know it's quick, but I have a lot of trust in you to promote the heck out of this!