In a previous post, I wrote about my selfishness and how that is what fuels this site and the Facebook group. I added a picture to that post quite a few hours after publishing it. I put a PS down at the bottom of the post that I would tell the fortune cookie story later because the post was already long enough. Not sure how many actually saw that PS.
That post was really personal so I went through all my pictures to try and find something appropriate. I didn't want some stock photo to put up. In doing so, I came across the picture I'd taken of my fortune cookie. Holy crap, ding-ding, crazy ding-ding.
Here's my fortune cookie.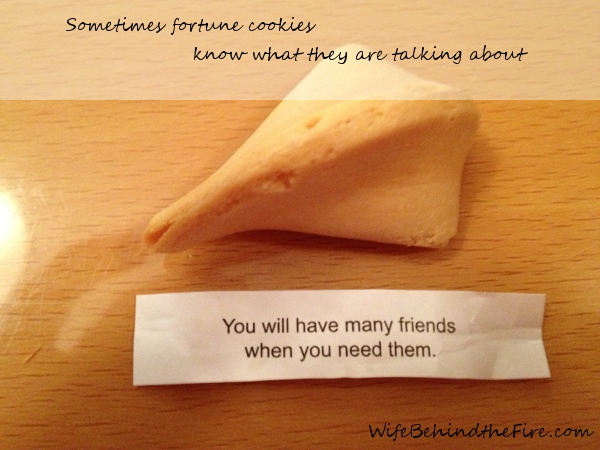 This photo was taken when we were out on a weekend with fire family celebrating a birthday. We'd gone wine tasting and Chinese food for dinner which was on the walk home.
I know that fortune cookies are so generic it's ridiculous. Seeing as we were on a trip with 3 other couples, it seemed an appropriate fortune cookie. You know, an "aw, cheers", kind of cookie. lol I didn't think anything of it and I really don't know why I didn't delete it later.
I guess this site may be the reason why that cookie picture wasn't deleted. How crazy is it that now, here we are? A site built on many friends helping each other.
Yeah, hindsight, whatever, be skeptical, I don't care. I just think it's ironic and appropriate for the site I want to build. I believe in signs and looking for doors that open. I guess I was given a sign that day.