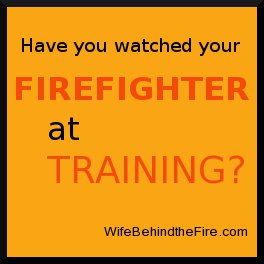 When you sign up for the newsletter, I include a spot where you can ask a question. It's not required but I know many women find the site because they are looking for a specific answer to something.
I love open my email to see someone has asked a question.
Sometimes a quick reply is the only answer. Then I just give them a quick, personal response. Other times I can use it for a blog post. Please be assured that if I use a question for a blog post, I word it so it's not traceable and names will NEVER be used. I value everyone's privacy.
Now back to the topic at hand. I had a wife ask about going to watch her firefighter training.
Question I received:
My husband often will ask if I want to come watch when they practice in the burn building or other similar situations. His work world is already part of our world, friends, co-workers, which I enjoy because lets be real, he is often spending just as much time at station as at home. Is this common, I feel unsure about this, I know what my husband does, and I have tried to explain to him that knowing & watching is two different things. I am pregnant with our 3rd, so that also I think has my emotions a little out of whack. Want to support & share in his joy with the practice, but just not sure.  Thoughts?
I'm a firm believer in not causing yourself undue stress. Especially if you are pregnant!
For now the easy answer is that you are too emotional to handle actually seeing it. That will bide you some time there right? lol
Honestly, if you are not a fan of watching the training and you think it will cause you mental distress, you should just stand your ground and explain that to him.  If he seems insistent then ask him why it's such a big deal to him. If this is something he wants, then it's going to be up to him to deal with you not wanting to go. It's not up to you to change your mind about going.
For readers, I've emailed with her a bit and they already have a seemingly good communication going on. As you see above she is part of the fire life and they have friends in the department. Otherwise, these would be some of the first suggestions I would have as the insistence that she go makes it sound like he just wants her more involved in the firelife.
I personally would love to go watch drill and have never been invited. I think it would be cool to go at least once. Unsure if it would give me a bad vibe or not until I actually did it. But I don't think it would bother me.
Some women say that watching the training helps them feel even more secure. Gives them a visual  and less fear of the unknown. That's going to depend on your personality though.
Everyone isn't the same and I don't suggest doing things that you know will make you uncomfortable. If you allow yourself to be talked into something you don't want to do, it might just add anger to the mix of emotions. Not a good combo.
Have any of you ladies gone to firefighter training/drill? Did it help set your mind at ease or add fears you didn't have prior to going?