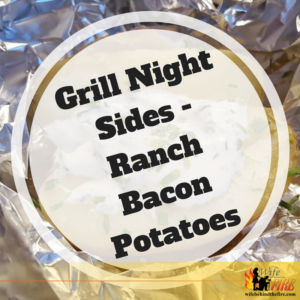 We are continuing this week with our grilling sides theme, this week focusing on grilled side dishes to go along with your meat. Because how much fun is it to have to run in and out of the kitchen watching a dish on the stove and managing your meat on the grill? I like to kick back with my husband or friends and chat while grilling, so having all my food cooking on the grill is ideal.
This side dish I'm sharing this week is a nod to men – most men love meat and potato dishes. With Father's Day coming up in a few weeks I thought this would be good to share now to make for Father's Day cookouts.
Like the pasta salad side dish I shared in my last post, this recipe can be very versatile. I'll share the ingredients for my original recipe. Later in the post, I will go over all the variations and options you can use to meet your own needs and tastes.
Ranch Bacon Grill Potatoes
1/2 cup of Ranch dressing (We use Hidden Valley)
1-2 pounds of red potatoes
2 cups of cooked and diced bacon
3/4 cup shredded colby jack cheese
salt and pepper to taste
Clean and slice your potatoes, I find slicing them helps with cook time. You need a piece of heavy duty foil large enough to make a foil packet. Spray with cooking spray. In a bowl combine the ranch dressing and the potatoes and salt and pepper until they are well covered. Lay them out on the foil, I like to pour just a little more ranch over the top of them at this point. Then sprinkle the cheese and bacon over the top. Fold the edges over to seal up the packet. You want your grill to be heated to right around 350*. Place the packet on the grill and cook for about 15 minutes, flip and cook for another 15 minutes on the other side. If you prefer your potatoes more tender, you can go to about 20 minutes, but we like ours with a little more bite.
I have done these potatoes in a variety of ways. If you don't like ranch dressing, you can do this with Italian dressing. My husband likes this variation when we do pork on the grill. Another idea is using butter and a ranch seasoning packet rather than actual ranch dressing. Cheddar cheese or pepper jack is a great way to change up the taste of this side. Don't like bacon? Leave it out! I love how versatile this can be.
From time I like to add baby carrots sliced in half to this side dish. This is another easy way to get veggies into my kids when they wouldn't otherwise be willing to eat them. Sometimes I cube the potatoes rather than slicing them, but by doing so you will need to add a few minutes to the cooking time to make up for the thickness of the potatoes. You can also use which ever potato variety you chose, we just prefer red potatoes.
This dish is easy to scale back if it will just be you and your firefighter sharing the meal, or make in larger batches if you are feeding a crowd. If you are feeding a larger group of people, I suggest slicing the potatoes and cooking in multiple foil packets to ensure they cook evenly and thoroughly.
What side dishes do you like to prepare on the grill? When you do potatoes on the grill, what is your go-to recipe? Does your family do a Father's Day cookout?