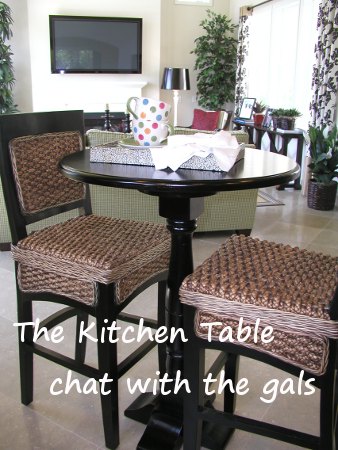 Last week I started a new series called The Kitchen Table. I'm going to work hard at keeping it away from controversial topics for a few weeks as we get used to it.
In case you don't have time to go read last weeks post right now I'll give you a little about this new series.
Each week I'm going to ask some firefighter wives from the fb group a question. Since we gals in the group are opinionated, I doubt I'll have anyone say no. This will give us a lot of different voices here on the blog. Everyone deals with issues differently and that's what I hope to share. There's no one way to go about life in general, let alone the craziness of the fire life.
A cool thing happened last week and others started posting their answer to the question on their blog. I love it! If you have a blog, PLEASE DO THAT! If you post the answer to the question on your blog, come back here and let us know the link so we can read it. If you don't have a blog, please feel free to answer below in a comment. The more, the merrier.
This one's kind of a two part question. Basically because the first part is pretty much a yes or no answer unless you talk too much like I do.
Do you hang with other firefighter wives locally? Would you like to or do you like to keep life separate?
_____________________________________________________________________________________
Mindy, stepped up to answer the question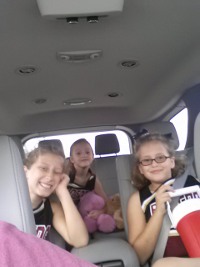 I do hang out with one local firewife, but her hubby works at a different department. Although we do sometimes talk fire, we became friends because our kids are friends not because of what our husbands do. I see her 2-3 times a week. In fact she even picked up my sick daughter at school today so I could finish my Sam's club shopping.lol.
That being said, there are no firewives from my hubby's department that I hang out with on a regular basis. Because he doesn't work for a big department, and his department is always filled with drama, I almost think it's better that way.
_____________________________________________________________________________________
And Jenni H. from Ohio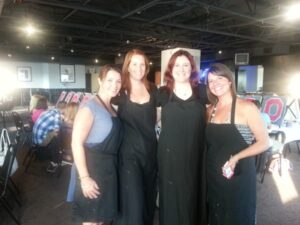 I have been lucky enough to meet several firefighter wives in the surrounding area that I call my friends. I live in Westerville, Ohio which is a suburb of Columbus. Unfortunately, we are not all on the same shift schedule, so it doesn't always work out to see each other in person because of work and family demands. I love when we have the opportunity to have a girl's night out or to have a few couples meet out for dinner. I'm lucky that I have firefighter wives as friends who understand this crazy life.
Most of the firefighter wife friends that I have are not with the same department as my husband. It would be nice to be friends with more of them, but that could be bad in a way too. When he does get around a co-worker they tend to start talking about situations at work and I don't think that is a good way to spend the night. I think it is also hard for me to make friends with the department wives because I used to be a secretary at his department for 6 years. All of the guys were like my family, but the wives did not really try to get to know me in social situations. We used to socialize a lot more with his co-workers, but it was not a comfortable situation. Most of them were very fake with me. I realized it was best to just keep our social life separate from most of his co-workers.
_____________________________________________________________________________________
Lastly, here I go. Hope you grabbed a drink 😉
It's not a surprise to many that I hang out with local firefighter wives. I know it's helped a lot that we live in district. Every time we've talked about moving farther away, being away from our friends was up there after not wanting the kids to switch schools.
I don't have a way to keep the fire life separate from the home life and I don't want to. I know I've talked to some guys who's wives don't want to hang at events or even attend events. Since I haven't gotten to talk to the wives I'm not sure how that works for them or why they have chosen that. I can say that I see it bother the husbands that come to things alone.
We have a very tight group. This was brought on by chance and circumstances. The 2007 class is a great, strike that, awesome group of guys. The 8 of them clicked immediately and are still tight. Like if anyone needs something at any time, they know to just call. With how cool the guys are, we got even luckier that they have awesome wives. What were the odds of that? Then we picked up another couple along the way when they transferred here 😉
See we didn't know that we weren't supposed to hang out or that we shouldn't do everything together all the time. We certainly didn't know that other departments weren't like that or even quite a few in our department. Ignorance is bliss because we then also found a lot more people and it's been a blast.
We just all learned this crazy life together and it worked. Have there been bumps along the way. Oh yeah, I fully understand the department drama. The boys are worse than high school and sure enough there are wives that are piles of crap and like to start stuff. Thankfully they have been identified and our group is open with each other about things. There's just not enough time in this life to put up with drama.
When we were in the volunteer dept I was on my own. He had the people at the station to chat with and they had drills, but I had no one but him to talk to about any fire life issues. Life would have gone smoother if I'd had some cool wives to chat with back then too. But, I appreciate the friends all the more for having gone through it before alone.
Thank you ladies for participating. I love hearing everyone's thoughts on topics. Especially when they have stories as to why they think that way. It's pretty amazing to me to see the different dynamics that lead to choices.
Links used at times are to products I will make a commission from. All the pennies add up to help with hosting and site maintenance.