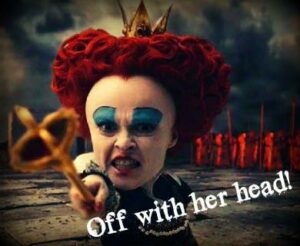 Today starts a new year for the original Wife Behind the Fire group.
One year ago yesterday I took an early jump and moved a private group of a few firewive friends to a new group name, fanpage and within weeks the start of this site. This was months ahead of when I was even considering doing it.
I jumped off the cliff, no harness and no plan. Oiy, talk about doing it the hard way. No plan is the dumbest ever.
While I'd had a firewife site previously, the whole fb group thing was new. What a major learning curve!
Initially I had it set to private but anyone in the group could invite. No admin approval. That worked for a little bit and it worked well. We got many of our initial, tight-knit members that way. Friends invited friends.
Learning curves aren't always bad, this one just took a while and some grief while I figured out a groove that would keep the group awesome and be less headache for me.
It didn't take too long and I had to set rules in place and a way to do quick screening. That initial group is closed to new members. But it was breaking my heart to turn so many away, so we have a new group that opened a couple of months ago. Most of the original ladies are there to chat all hours of the day and night. The private Wife Behind the Fire facebook group is open to all wives.
But, I still have rules there and one major rule is participation. That rule is the major thing that sets us apart from all the other firewife groups out there. There's no lurking behind the scenes, reading about everyone. You're going to have to step out of your comfort zone and comment or post at least once a month. If that's not doable then we just aren't the right fit for you.
It's hard to believe it's only been a year.
In the year we have:
Met one of the firewives in person (Hey Carol!)
Set up a fundraiser for a firewive battling a nasty form of breast cancer.
Cried with said firewife over nasty days in her battle.
CHEERED to beat all hell, when her scans last came up NED (no evidence of disease)
Many babies were born
An original member became official and they tied the knot (Hey Beth!)
Quite a few other weddings took place
Sadly, quite a few other women battle(d) cancer and diseases
We held too many virtual hands as women buried loved ones and fire family
I had surgery and the girls showered my house with goodies while recovering
Fantasy football league (maybe McGee shouldn't play this year 😉 )
Wives changed dept's and new jobs were found that were even better
and so many good times I can't even list them all.
This group was exactly what I needed again. The amount of people that check in and chat every day is proof positive of how many others also needed this.
I don't regret jumping off the cliff last year. I don't regret going about all of this backwards and having no plan which in turn causes some panic attacks in the middle of the night.
I couldn't have done this without all of you. The group is only as great as you ladies helped make it and keep it. This site doesn't matter without your interaction. Our group isn't for everyone and I let everyone know that when I approve them. We aren't PC and the swearing flows freely. Inappropriate joking happens all the time. I don't want our group to ever be a great spot for everyone. There are plenty of other groups for those we will offend immediately.
I thank each and every one of you for coming into my life and the part (big or small) that you have played in my life this last year.
K, now enough of the mushy stuff. It's shift night, who brought the wine?!
xoxox forevah biytches,
Your High Priestess Val