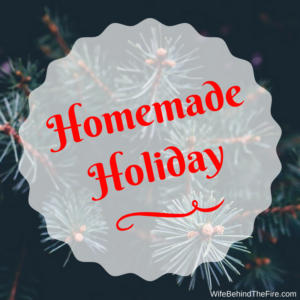 When it comes to giving and receiving gifts during the holiday season, one of my favorite choices is homemade. Anyone can run out and grab a gift card to a restaurant, and we all know we have tons and tons of candles stored away in the closet. I know there is a thought behind those gifts, but I think giving a gift that you know someone took the time to make especially for you is so much more personal! I take a couple shift days at the beginning of the holiday season and dedicate them solely to gift making. Not only is it more personal, but it can be very cost effective as well! Here are a few of my favorite homemade holiday gifts to give to my family and friends.
Hot Chocolate Jars
One of my favorite things to give as a gift is Hot Chocolate Jars, these always turn out very cute and go over well. I buy a big jar of hot chocolate mix in bulk, it's very inexpensive this way, and watch for canning jars to be on sale earlier in the year. I like to add enough mix for two cups of hot chocolate, that way the receiver can enjoy the gift more than once or if they want to share with someone they can. If you have a larger canning jar you may be able to add more. I like to layer in marshmallows, candies, peppermint sticks or any other tasty sweet you might like to add to your hot chocolate. You can tie a cute holiday ribbon around the neck of the jar and attach a gift tag to finish off this tasty holiday gift!
Homemade Crayons
This is a perfect gift for all the children on your list! What I love most about this gift is it usually costs me only a few dollars! If you have children in the house, save all their broken crayons throughout the year. I used to keep them in an old butter container. You'd be surprised how quickly they add up. If you don't have children in the house, you can use new crayons. I recommend using Crayola brand, which you can get cheaply at back to school time, because the finished product turns out better. I like to use a holiday shape themed silicone baking mold, but any shape will do.
Set your oven to a very low heat and peel the crayons. If they are already broken into little pieces, fill each shape. You can do single colors together, or mix them for a rainbow crayon. If you are using new crayons, break them down first. Bake them for 15-25 minutes, keeping a close eye on them because you don't want them to get too runny – you want the colors to just melt down together and take the shape of the mold. Let them cool and then package them in a cute gift bag. These are always a hit with the younger crowd!
No Sew Heat Packs
These are so much fun to make, I love shopping for funky socks. For this gift, you need one knee high sock in a cute design, 2 cups of regular rice (the cheapest brand will do), some baker's twine, and if you'd like to add a scent then choose your favorite essential oil (1o drops per 2 cups of rice). These are very simple to assemble. Measure out two cups of rice, and if you are going to add an essential oil like peppermint or citrus, add it to the rice before stuffing the sock. I find it easiest to use a small funnel made out of paper or an empty toilet paper roll to help get the rice into the sock with the least amount of mess. Finish off the top of the sock by tying it with the baker's twine. As long as you make sure to tie it effectively, these shouldn't come open. Most people aren't rough with them, and I've tested them and never had them spill.
What kinds of homemade gifts do you like to give during the holiday season? What is your favorite homemade gift you've received? I'd love to hear your ideas to use next year!