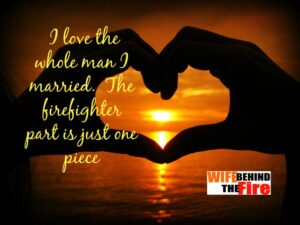 My name is Val and I'm married to a firefighter.
People will call him a hero. I call him my best friend.
Dictionary.com defines a hero as: a man of distinguished courage or ability, admired for his brave deeds and noble qualities.
My husband is all of that definition, but that is not why I married him. He was all of that to me before ever putting bunker gear on.
For 20 years, I've been married to the man that can drive me crazy in a good and bad way in a matter of seconds.
For 20 years, I've been married to a man that puts everyone in his life before himself.
For 20 years, I've been married to a man that is the most amazing father a woman can ask for.
For 20 years, I've been married to a man that makes me laugh my ass off every day at least once.
For 14 years, I've shared him with the community.
I knew what he wanted to be when we first got together. It took longer than first hoped to achieve his goal. We were too busy trying to get through the day to day for him to be able to get there early on.
At no time have I ever thought of my husband as being my hero because of the job he does. It's a job. It's a job he really loves and I understand that it takes a special person to be able to accomplish the calls.
He was a special man before the fire dept. The amazing attributes I posted above are just a starting point.  But they are what I judged my husband on. Not the fact that he is willing to risk his life for others. That is actually more of a detriment than a blessing in my eyes because I'm selfish. He was mine first, not the communities.
There were many times over the years that I've heard comments about how awesome it must be to be married to a firefighter. What a dream it must be.
No, it's not a dream.
It's a dream that he is able to do the job he always wanted to do. That he can also do it as his career is awesome and a total dream come true.
Him being a firefighter, is not my dream. Holidays without him. Overtime shifts picked up. K days and vacation days messing up any kind of routine we might have. If there's something I'd love to go to, you can bet it will land on a shift day.
It has never been "easy". It's about constant change. It's about not knowing what kind of mood he may be in when he gets home. Was there a really bad call? Did he get any sleep? Is it one of those days that I should drop everything and we go get his mind off whatever happened on shift?
Being a firefighter didn't make him a hero in my book. I love him for the fact that he can do the all consuming job and still be his happy, sarcastic, pain-in-the-butt self when he comes home to me. That by the way is the only rule I've ever given him. He must come home to me.
Happy 20th anniversary to the man I'd marry again without a second thought.
---
5 year update…we've survived some major hell in the last 5 years and our marriage is stronger than ever for it.
Just celebrated our 25th anniversary in April and I would once again and hope to always say, that I would marry him again without a thought.
Missed events still happen even as empty nesters. But, the fact that we are still best friends means we can work through anything…as long as we keep talking it out.
Remember, happiness is a choice. Live with no regrets,