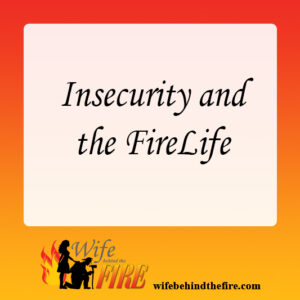 Not only is being part of the fire life not for the faint of heart, it also isn't for the insecure.
Being insecure has NO place in the firelife.
If every time your partner runs a call, you are worried that someone will steal them away, you need to get yourself straight. Get therapy, get meds, get a hobby. Whatever it takes.
It drives me absolutely insane to see firewives or partners who constantly fret that their firefighter is hooking up with someone while doing their (paid or unpaid) job. This isn't Warner Brothers, this is real life. Turn off all those ridiculous "fire service" dramas on the television.
If your partner is going to stray, they are going to stray, regardless of their profession. Plain and simple. If you don't trust your partner, you guys have WAY more issues than his choice of profession. If you are jealous of his time at the station, that's your issue to deal with.
Now, that's not to say that you should tolerate him being gone all the time for no legitimate reason. That's his fault and he's not holding up his end of things. Don't sit and fret constantly, woman up and call him on the carpet about it. At the end of the day, regardless of your occupation, his occupation, the amount of money you make or spend, if you have kids, pets, if you rent or own your home, the number one thing to fix issues in a relationship is COMMUNICATION.
Not communication as in "you totally freaking suck," and not actually addressing the issues. Not communication as in "why don't you know what is wrong?" and expecting your partner to read your mind. Not communication as in telling everyone but your partner what is wrong.
Communication as in sitting down and openly and honestly talking to your partner. Tell him that you are insecure about things. However, don't expect him to "fix" you. He can't fix you any more than you can fix him. You (general you) can't control anyone's actions except your own. You can, however, control how you react to other people's actions. Now, if he is giving you a reason to think he is up to no good (a real reason, not imagined in your head), then again, DEAL WITH IT, WITH HIM.
Communication is key in all relationships. When you are in the fire life, that need for open, honest communication is amplified a hundred times over. Make it happen, dears. Being a firewife or partner is HARD. Use the support systems like Wife Behind the Fire. Don't make it harder on yourself by being self-defeating.