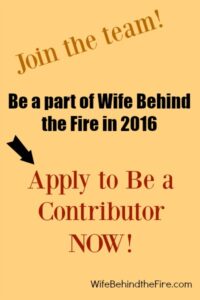 I'm looking for a few writers to join the Wife Behind the Fire team in 2016 as contributors.
Who should join the team?
Bloggers or writers that want to help other firewives with resources, support and general posts about trying to balance life as a firewife.
I'm looking for bloggers that are actively posting to their blog at least once a month and understand the importance of promoting blog posts across multiple social media formats. You will be required to post once every 6 weeks to WBF. That's only 8 posts over the year.
You don't have to be a blogger for this position, but good writing skills are a must. I will also need a way to see things you have previously written.
What's in it for you?
Blog promotion, promotion, promotion.
I want to help you get your blog out there in front of more people. Each post you write will include a box with your profile picture, a short bio plus your social media links. You will have a bio page for people to get to know you better and you can include up to 3 specific posts from your blog on this page. You will also be included in an author widget in the sidebar navigation.
I'm here to mentor you throughout 2016.
We will have a private Facebook group where you can ask questions. Maybe you want to grow your newsletter list or even find out how to start one for that matter. Are you ready to start taking sponsored posts or maybe create a product? Ask away. Our group will be there to help with the questions and help you promote your blog as well.
We will have a group pinterest board that all contributors can link their own blog posts to for even more traffic and exposure.
Contributors will receive products released in 2016 for free or at huge discount.
In December 2016 every contributor that has completed the year will receive an amazon gift card. There will also be a giveaway just for contributors. More details to come for what that prize will include.
Application deadline is November 24th, 2015. I will be choosing team members early December. If you have any questions, please email me val @ wifebehindthefire.com
Apply below on the Google form