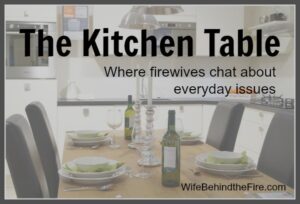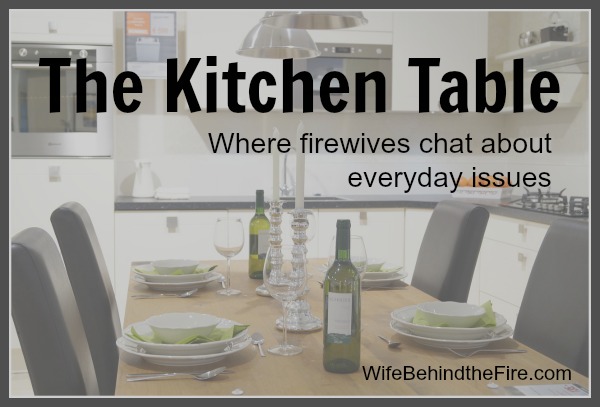 If you have a question for The Kitchen Table I'd love to hear it. Just fill out the contact form with your question 🙂 It's that easy.
We all come from such different stories. New wives, long time wives. A family of firefighters, never been in the firelife before. It makes for great discussions.
This weeks question:
Was your spouse a firefighter before you met them?
____________________________________________________________________
Dana H. from Prudent Wisdom
Well this story is part of our testimony, it is when our Marriage Roller coaster began. No he was not a FF when we met nor when we got married. During the year that our first was born and throughout the year after my hubs struggled with purpose, he didn't know what direction to follow nor which way to turn. On 9-11 he heard the call to be in the Army, he took his ASVAB and through that his placement was Fire Department………long story short he did not join the Army however he took that direction and joined our local Volunteer Fire Department, enrolled in EMT school and the rest is pretty much history.
We all mourn over 9-11 because is was the worst day in American history (in my lifetime) but it was also the day that my hubs found himself,his purpose, and became a leader. That is our silver lining!
____________________________________________________________________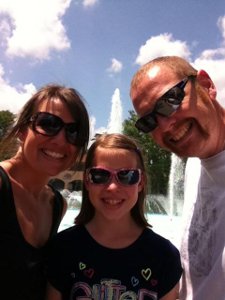 Tina R. is willing to share with us
My husband had been a firefighter for 10 years before we met, and I was also bringing three kids into this relationship, so we had a lot to learn.
I had never known a firefighter before, so the schedule/life was all brand new to me. Just trying to remember when he was working was hard: ON, off off, ON, off off, until I learned about trades and OT and mandates. The first time I accidentally called him while he was on shift sent me into a panic; I couldn't hang up fast enough, until he reminded me that he was at work, not in prison.
Fear of the job hasn't been an issue for me, but the kids were worried in the beginning. I just tried to reassure them to trust in his training, and not to envision Hollywood depictions of the job.
Since we've been together, we've had a few Thanksgiving dinners at the firehouse, some early morning Christmas celebrations and some Christmas mornings waiting for him to come off shift. The kids have been great about adjusting celebrations so that we can all be together. For us it's just our normal.
As I write this, my husband is on shift. As long as no one gets a 3 a.m nosebleed, and no plumbing mishaps occur, it'll be a good shift. Even if those things do happen it'll still be fine, because it's part of our normal. It's Murphy in action, and he loves shift days. Oh how he loves shift days…
____________________________________________________________________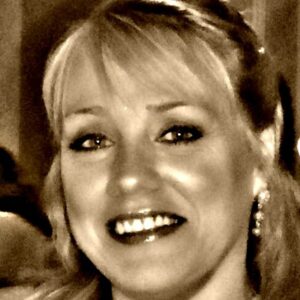 Dawn is a newbie to posting and you're gonna luv her 😉
He was a firefighter for about two years before we met and in all honesty it was almost a deal breaker for me. I just couldn't imagine myself being involved with someone I would have to worry about all the time and not have him home every night not to mention holidays. Very early in our relationship he was injured at a fire and I found out when I opened the newspaper in the morning so I guess I got that out of the way quick….yes he may get hurt but I realized I could deal with it. The nights and holidays were difficult in the very beginning but adapting was quick and easy. All in all I'd have to say I'm VERY glad I didn't pass up the life we have because I was afraid of what ifs.
____________________________________________________________________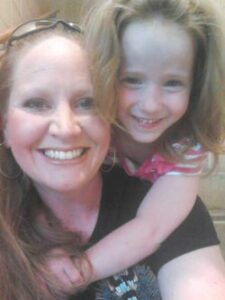 Trina of Too Hot to Handle and I had a similar path
I married my college sweetheart. He placed that diamond ring on finger the night before my 21st first birthday. We met on a college choir tour, where we were both education majors. When we got married, I had been teaching for a year and he was about to begin his student teaching. I married a teacher. We shared the same calendar, worked the same hours. We had summers and Christmas breaks off – together.
No where on my radar was the idea that he was going to be a firefighter.
By the time he came to me with the idea of being a firefighter, we had been married for 10 years and had just brought home our 4th baby, a 29 week micropreemie. I said yes, not having a CLUE what I was getting into. When I said yes, I was just looking for him to be happy. EMT-B classes were 8 hours a day, every Saturday and Sunday for 10 weeks. Meaning…I never really saw my husband. He taught from 8-3 everyday, ran the after school program until 6pm. When he came home, it was for dinner and then off he went to study. A year later was the academy, which truly left me as a single mom – with a much larger fifth child. I taught two counties away, leaving at 5:45am every morning with the boys. Coming back with another hour plus ride, to round up the two girls from school and daycare. Dinner and bed time was almost exclusively on me. When he did come home, it was usually for a quick tuck in and off to study, where he usually fell asleep in his books. Saturdays were spent washing his bunkers and study groups. It was truly, the longest 14 weeks of my life.
I counted down the the days until graduation from the fire academy, because I thought life would be SO much better. That was a naive expectation. That first year was an especially rough patch. I was not sure we would survive as he learned to live without sleep and I learned to live without him. It was the verbal battles and tears that I met Val through firehouse.com's Wives Board and she invited me over to her page to try and find others in the same boat that I was in, because we were the only ones posting on that board.. That was probably the best connection I made in the early part of this life we live in.
I am married to an amazing firefighter/paramedic, but I married an elementary school teacher. My 21 year-old self would have run away from this life as fast as her child free legs could take her. Today, I wouldn't trade it for anything in the world.
____________________________________________________________________
Thanks Stephanie C. for your story
He was not active when we got married. He had been a vollie for years before we met and shortly after we started dating he left the fire hall. I never realized how important it was to him. I never really thought about it much. A few years after we were married some friends of ours were out of town and got a call that their house was on fire, so they called and asked if we would go check on the house and stay until they got home. At that moment I saw a side of my husband I had missed…he went into fire mode and we were out the door. He wasn't happy for their loss, but I saw his passion for the fire service.
I encouraged him to go back, but he kept saying to be careful what I asked for, that I just didn't understand the toll it would take on our young family. Another year or two went by that the subject would come up periodically, but he didn't go back. When we moved back to the area of the station he started with he went back to his original fire station. He was right, I had no idea! However, after seeing his response first hand from our friends house fire I knew it was the right thing.
I may have some lonely moments that I want him home more often, but I don't regret encouraging him to go back! It's well worth the price of seeing him do what he loves, and it has allowed my boys to grow up seeing their dad as the hero he is!
____________________________________________________________________
Crazy thing about this question is I originally only sent it to wives that didn't marry a firefighter. Completely by chance. I had to go find some gals to balance it out with the other side.
I didn't marry a firefighter. We were in high school when we got together. I knew he wanted to be a first responder of some sort, but that seemed far away.
Life choices made it happen later than either of us hoped for. Oh well, I think we appreciate it even more.
I had seen the sign at the firestation that they were taking apps. One day, he came home and said his boss had talked him into applying.
His boss was a vollie (capt?, can't remember this was 15 years ago) in next town. They carpooled to their heavy construction job, which gave them plenty of time to talk.
I was completely for it even though it was kind of out of the blue. I had no idea what we were getting into, just that this was something he'd always wanted. I'm glad I had no idea. Hell, he had no idea exactly what we were getting into.
I wouldn't change him starting out as a volunteer. I think it gave us a unique insight. Only thing I wish was that he'd gotten hired earlier. Things happened for a reason and he's working with people that have become family. So it's impossible to wish that away!
Was your spouse a firefighter before you met them?