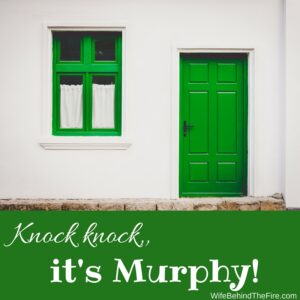 Murphy's Law – "Anything that can go wrong, will go wrong."
**please be aware that links used in post could be to affiliate products I make a commission on**
Every firewife is especially familiar with Murphy. It seems that for each firewife when shift day arrives, something aligns in the universe and Murphy is pulled in her direction. It can be very easy to let stressful situations overwhelm you. Sometimes you just have to experience a few crazy visits from Murphy to have the confidence to know you can handle whatever is thrown your way. It seems there are a few very specific ways Murphy presents himself in the fire lifestyle, almost every firewife I know has experienced at least one of the following.
The dreaded overtime call.
Receiving a phone call from your firefighter can be the highlight of your day. I think the only thing more disappointing than not getting that refreshing call that allows us to recharge and reconnect is to hear him utter that dreaded word – Overtime. Overtime can send you scrambling to rearrange plans because it typically happens on the days he is supposed to meet you at your child's track meet after shift, or pick up the dog from the groomer because you are working late yourself. Don't let the stress of overtime get to you – it helps to have back up babysitters who can take your kids on short notice. Firewives learn quickly to adapt schedules and rearrange plans.
The most complicated appliance always breaks.
Nothing ever breaks when your firefighter is home. Over the years, I've learned to handle many household emergencies without batting an eye. It never fails, the furnace will go out on the coldest shift day of the year, or your tiny toddler will shove the hairbrush down the toilet and try to flush it away. I have found for small jobs I can handle myself it helps to have a binder with owner's manuals and parts lists handy. When it came to bigger jobs I knew were best left to professionals I like to keep a list of phone numbers for trusted friends or repair men. A simple homeowner's repair guide you can get at a home improvement store can be a handy investment as well.
Calls always happen during the most important events.
Not all firewives experience shift day Murphy's Law. Murphy happens to volunteer families as well. I have heard countless stories over the years of tones dropping in the middle of their child's first birthday party, Christmas dinner, or a family reunion. It seems like a volunteer firefighter could go days or weeks without a call, but you can almost guarantee that if there is an important date on the calendar, Murphy will rear it's ugly head. The volunteer lifestyle requires families to be very adaptive and know that it's not the date on the calendar that is important, it's setting aside time when you do have it to make memories and celebrate events that means the most.
Whenever Murphy strikes, the key is to stay positive. Have faith in yourself that you can change the flat tire, or handle the broken window from the kids playing baseball in the yard. Be confident that friends and family are there to lean on if you need a child picked up from school while you take another to a doctor's appointment because he has overtime. Know that the date night you had planned can be rescheduled for next week. It's very easy to get thrown for a loop when life gets stressful while he's on shift, but if you keep a positive attitude and stay proactive you can laugh when you find Murphy on your doorstep knowing you've got this. Also, don't forget FireWife, there is always wine 😉